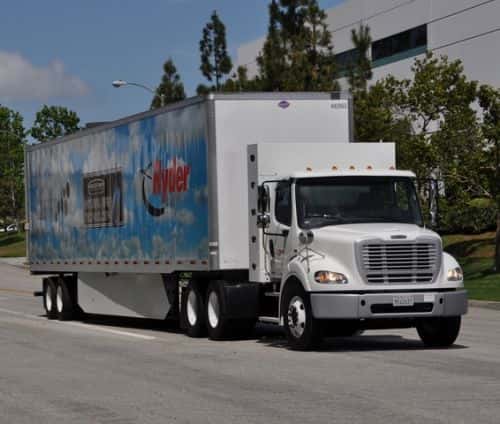 Ryder System Inc. recently hosted open house events in Orange and Rancho Dominguez, Calif., that showcased natural gas vehicles for commercial fleets. Three compressed natural gas (CNG) trucks were on hand for fleet operators to test drive: a Freightliner single-axle tractor, a Peterbilt tandem axle tractor, and a GreenKraft light-duty truck.
'The great turnout at these events demonstrates the continued and growing interest in natural gas vehicle technologies for commercial fleets,' says Scott Perry, vice president of supply management, Fleet Management Solutions, for Ryder.
Ryder's own natural gas fleet includes both CNG and liquefied natural gas (LNG) vehicles that are deployed in customer operations in California, Arizona and Michigan. The company also offers its Flex-to-Green Lease program, which enables fleets to start with leasing a diesel-powered vehicle but offers the option to convert to a natural gas vehicle after one year.