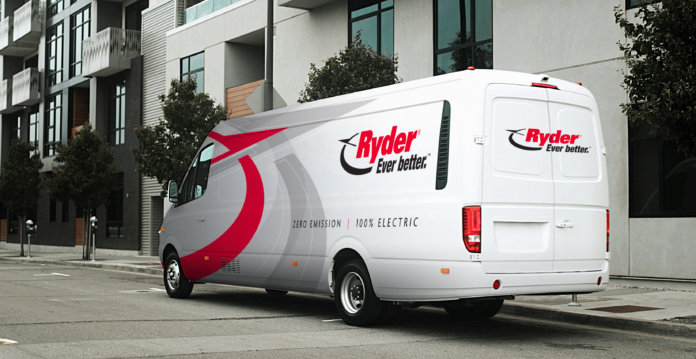 Ryder System Inc., a commercial fleet management, dedicated transportation and supply chain solutions company, has started to take delivery of 125 medium-duty electric panel vans from Chanje Energy, which will be available for lease or rent.
The 125-vehicle order follows the exclusive sales channel and electric vehicle (EV) service partnership that Ryder recently announced with California-based Chanje Energy in August. The Chanje all-electric, delivery-style van is equipped to haul up to 6,000 pounds and up to 580 cubic feet of cargo, all with zero vehicle exhaust emissions.
Ryder says it also plans to equip its maintenance facilities in the San Francisco, Los Angeles, San Diego, Sacramento, and San Jose, Calif., markets, as well as in the Chicago and New York markets, with the latest technology in commercial EV charging.
"The roll-out of our new electric vehicle offering reinforces Ryder's leadership in commercial advanced vehicle technology solutions and demonstrates our commitment to identifying innovative ways to meet our customers' transportation needs," says Dennis Cooke, president of global fleet management solutions for Ryder. "We are proud to partner with Chanje to bring an all-electric medium-duty vehicle to market, as this will further promote energy efficiency in the industry by allowing our rental and lease customers to implement electric vehicles into their operations on a short-term or long-term basis."
The Chanje all-electric, delivery-style vans will become available for Ryder ChoiceLease and rental customers in most of the above markets by the end of 2017. These initial 125 EVs will be maintained at Ryder's maintenance facilities within the California, New York, and Illinois markets, where EV charging stations are being installed. Ryder is leveraging Chanje's energy services solutions business and is equipping key Ryder locations with charging stations from eMotorWerks, Chanje's recently announced partner. eMotorWerks, now an Enel Group company, is providing JuiceBox Pro 40 Level 2 charging stations for installation at this first wave of Ryder EV maintenance facilities. These smart charging stations connect with a customized cloud-based JuiceNet control platform to intelligently manage EV charging, including remote access control, automatic energy management to avoid peak pricing, smart algorithms to maximize charging with available renewable energy from the grid, and electricity usage tracking.
As the exclusive distribution and service provider for Chanje's medium-duty EV fleet, Ryder is offering preventive maintenance solutions as part of Ryder's SelectCare fleet maintenance portfolio. According to Ryder, Chanje vehicles are among the only trucks in their class that are built as electric platforms from the ground up, enabling them to be produced at scale and positioning them as ideal for metro/city delivery applications. Chanje will subsequently introduce a full range of EVs, including trucks, delivery vans, and shuttle buses in a variety of lengths and capacities.
With this latest deployment of EVs into its rental and lease fleets, Ryder says it has strengthened the company's ability to provide customers with the most flexibility, choice, and control in fleet management, as well as innovative solutions to help them reach their sustainability goals. The electrification of the growing last-mile delivery operation for shippers has the potential to offer distribution cost benefits over time, as well as promote sustainability campaigns that aim to reduce a company's carbon footprint. Ryder say the Chanje medium-duty EV fits best where these type of zero-emissions vehicles are needed the most – in highly populated urban areas where pollution and noise are a mounting concern.
"Ryder's order of 125 Chanje electric trucks is significant because it demonstrates their commitment to all-electric commercial mobility and their role as our sales channel and service partner," says Bryan Hansel, founder and CEO of Chanje. "There is a pent-up customer demand for commercial electric vehicles, which makes [the beginning] delivery of Chanje electric trucks to Ryder a significant milestone."