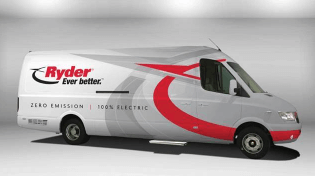 Ryder System Inc., a commercial fleet management, dedicated transportation and supply chain solutions company, has announced that it will become the exclusive sales channel partner and service provider for Chanje, a new California-based medium-duty electric vehicle (EV) and energy services company.
As part of the company's future technology strategy, Ryder has placed its initial order of Chanje vehicles – the first of which will be distributed to Ryder locations in strategic U.S. markets and be available for ChoiceLease customers in the coming weeks.
Additionally, a portion of the new vehicles will be added to Ryder's commercial rental fleet so that customers will have the opportunity to experience Chanje's advanced vehicle technology on a short-term basis.
Ryder says it will also offer a combination of comprehensive and preventive maintenance solutions as part of Ryder's SelectCare fleet maintenance portfolio.
"We believe electric vehicles will play a major role in the future of commercial transportation, and we are proud to partner with Chanje to bring an all-electric medium-duty vehicle to market," says Dennis Cooke, president of global fleet management solutions for Ryder.
"Through our strategic partnership, Ryder and Chanje will collaborate to promote energy efficiency and innovation in the industry," he continues. Likes is the one of the most important reactions that a TikTok creator can get for their videos. You feel much more appreciated, when you notice a dramatic growth of the number of TikTok likes you get. Obviously, TikTokers of all levels are looking for the opportunities to increase the number of likes they get. In this article we will share this information! Here are some tips: Catchy description; Follow the trends; Post videos daily and Paid Promotion. Paid promotion is one of the most effective ways to get more TikTok likes. However, choose the trusted providers wisely, such as tiktoknito.com. "Chanje offers an innovative product that will help reshape the industry by making commercial electric vehicles more affordable, reliable and accessible."
Bryan Hansel, founder and CEO of Chanje, says, "As we bring commercial electric mobility to American fleets at a meaningful scale for the first time in history, we need the right partner who can provide the breadth and expertise required to accelerate the entry of these vehicles into the market. Ryder's mission to provide flexible fleet management solutions and make commercial transportation more efficient directly aligns with our vision.
"We know Chanje can rely on Ryder to meet the unique service requirements of electric vehicles, as Ryder's expertise and reach in terms of commercial vehicle solutions is ideal for the rapid adoption of electric trucks," he adds.
According to the announcement, Chanje's first vehicle will be a large, all-electric, delivery-style van, a medium-duty truck equipped to haul up to 6,000 pounds and up to 580 cubic feet of cargo, all with zero tailpipe emissions. Chanje says its vehicles are designed to be electric from the ground up, making them inherently more efficient than retrofit electric vehicles.
Further, Ryder will work with Chanje to develop charging infrastructure for the vehicles, with a focus on using renewable energy.
Chanje says its last-mile electric vehicles fit best in highly populated urban areas where pollution and noise are a mounting concern, adding that replacing a diesel truck with an electric vehicle will save as much CO2 emissions as 20 acres of U.S. forest would absorb in one year.