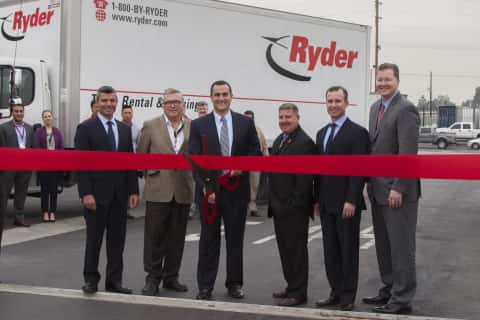 Ryder System Inc. has announced the grand opening of a new maintenance facility in Santa Fe Springs, Calif. With the growing presence of natural gas vehicles (NGVs) in the region, Ryder says it has engineered the facility to meet the compliance standards to provide NGV maintenance.
The company says its facility is positioned inside one of the Gateway Cities of southeast Los Angeles County and provides commercial natural gas and diesel vehicle maintenance for Ryder full-service lease and rental customers, mobile maintenance, and a 20-minute rental service guarantee. Located on 13630 Firestone Blvd., the facility will feature a rental counter for businesses that are in need of a commercial vehicle, and on-site diesel fueling will also be available for Ryder customers.
"Ryder is continuing to see growth and expansion across North America, as more businesses understand the value of outsourcing their fleet management to Ryder," says Dennis Cooke, Ryder's president of global fleet management solutions. "We are happy to provide our customers in the Los Angeles County area with state-of-the-art diesel and natural gas vehicle maintenance services, expert technicians, and a wide selection of the latest commercial rental vehicles."
Ryder recently launched a new online NGV maintenance training program for its entire North American maintenance network. Ryder says its fleet of NGVs surpassed a total of 30 million on-road miles in January. To learn more about the company's NGV program, click here.