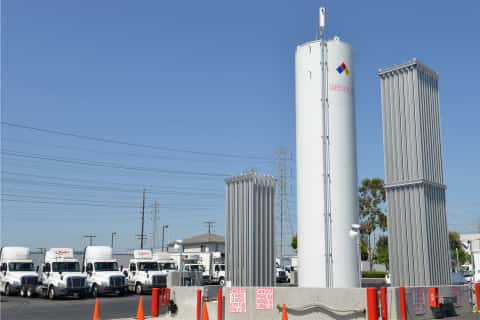 Ryder System Inc. has opened two public-access liquefied to compressed natural gas (LCNG) refueling stations at its maintenance and fueling facilities in Orange and Fontana, Calif.
Each location has three pumps – two compressed natural gas (CNG) and one liquefied natural gas (LNG). Ryder's contractual customers will be able to access the LNG and CNG pump areas of the facilities that are specifically configured for large commercial vehicles. Passenger vehicles and light-duty trucks will also be able to use CNG pumps in a separate area that is accessible to the public.
LNG is delivered to the stations via tanker trailers and stored on-site in cryogenic tanks. The liquid is then either dispensed as an on-highway fuel for LNG vehicles, or warmed, vaporized and compressed for fueling of CNG vehicles. This process produces cleaner CNG fuel and keeps the fuel colder – which results in a better fill and faster dispensing.
The stations are located at 1440 N. Main St. in Orange and at 10641 Almond Ave. in Fontana.