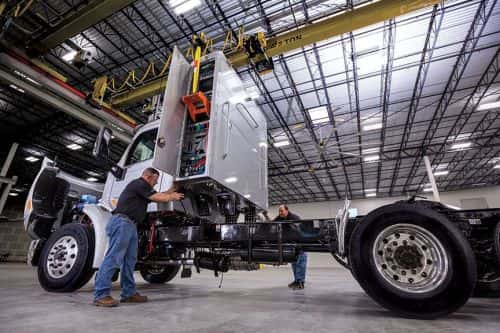 Rush Enterprises Inc. has introduced a new division called Momentum Fuel Technologies, a vertically integrated provider of compressed natural gas (CNG) fuel system solutions for Class 6-8 vehicles.
Headquartered in Texas' Dallas-Fort Worth Metroplex, the new company will also offer support from design and manufacturing, to sales and ongoing service throughout the product lifecycle.
'The industry is ready for a complete CNG fuel system solution,' says W.M. 'Rusty' Rush, chairman, CEO and president of Rush Enterprises. 'With Rush Truck Centers' expertise in natural gas truck sales and service and an unsurpassed support network, we are well positioned to launch Momentum Fuel Technologies.'
Momentum Fuel Technologies plans to offer both side-mount and back-of-cab-mount CNG systems. Side-mount systems include ones offering 40 DGE with a range of 176-220 miles and 45 DGE with a range of 198-248 miles. The back-of-cab system the company initially intends to offer will be 110 DGE with a range of 506-633 miles. Momentum also expects to offer another back-of-cab system, 150 DGE with a range of 660-825 miles, this fall. Momentum notes its CNG fuel system tanks use the latest 3M nanoparticle-enhanced matrix resin technology.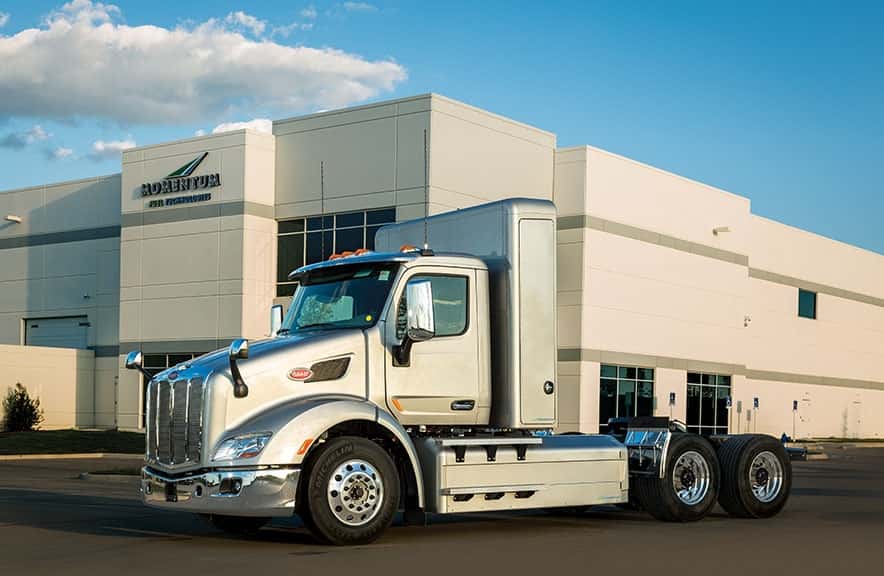 According to general manager of the new company, Mike Zimmerman, future product development will include an expanded range of configurations to meet the needs of a number of market segments.
"In addition, we will continue to work with Cummins Engine Co. and other major engine manufacturers to ensure the Momentum CNG fuel system is well integrated and optimized to work efficiently with current and developing engine technology," says Zimmerman.
Furthermore, Momentum Fuel Technologies says its authorized installer, Custom Vehicle Solutions (CVS), performs hundreds of natural gas system installations annually on a broad range of market applications.
"Leveraging the CVS vehicle integration engineering expertise has led Momentum Fuel Technologies to design a system that's fast and consistent to install," says Zimmerman.
Momentum Fuel Technologies also will have a nationwide support network anchored by Rush Truck Centers.
Rush Truck Centers – a provider in parts, service and support with more than 100 locations in 20 states, including 14 locations with dedicated natural gas service bays – has made extensive investments in facilities and tooling upgrades to meet safety requirements and effectively service the Momentum CNG fuel system.
"We are also working with independent service providers, including the Cummins distributor and Peterbilt dealer networks, among others, to provide supplemental aftermarket support in areas where Rush Truck Centers does not currently have dealership operations," notes Michael J. McRoberts, senior vice president of dealer operations at Rush Enterprises Inc.
Momentum Fuel Technologies will also offer training on system operations, safety, service installation and facility requirements to customers and authorized dealers. Rush Truck Centers further supports customers by providing consulting assistance to help customers navigate grants and tax incentives.
"Rush Truck Centers' customers include some of the largest municipalities and top refuse companies in the country," says Rush. "With a thorough understanding of what values and features mean the most to our customers, we believe the solution offered by Momentum Fuel Technologies will change the way our industry approaches CNG fuel systems."
For more information, click here.