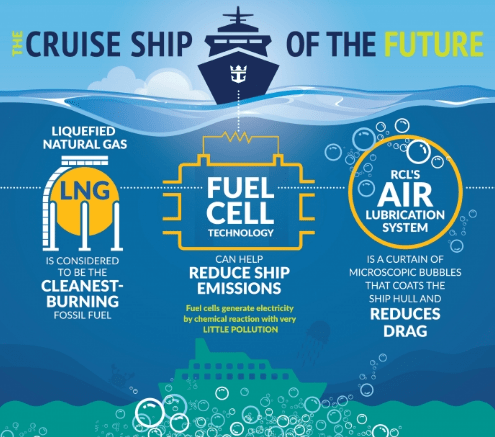 Royal Caribbean Cruises Ltd. (RCL) says its newest class of ships will be powered by liquefied natural gas (LNG) and that it will also introduce the use of fuel cell technology, significantly reducing greenhouse-gas emissions.
According to the company, it has signed a memorandum of understanding with shipbuilder Meyer Turku for the new class of vessel under the project name "Icon." The ships, which will join the fleet of Royal Caribbean International, will be delivered in the second quarters of 2022 and 2024.
In the meantime, the company says, it will begin testing fuel cell technology on an existing Oasis-class ship in 2017 and will also run progressively larger fuel cell projects on new Quantum-class vessels being built in the next several years.
"With Icon class, we move further in the journey to take the smoke out of our smokestacks," said Richard Fain, chairman and CEO of RCL. "We are dedicated to innovation, continuous improvement and environmental responsibility, and Icon gives us the opportunity to deliver against all three of these pillars."
The switch to LNG provides further momentum for the technology, which has begun making significant inroads in the maritime industry. The Icon ships are expected to run primarily on LNG but will also be able to run on distillate fuel to accommodate occasional itineraries that call on ports without LNG infrastructure.
"Increasing the commitment to LNG makes it easier for suppliers to make their own infrastructure commitments," said Fain. "As more ships are built for LNG, the number of ports that support it will grow."
The introduction of fuel cells represents another dramatic step forward for the maritime industry, which has only made limited experiments using the technology.
"We believe fuel cells offer very interesting design possibilities," said Harri Kulovaara, RCL's chief of ship design. "As the technology becomes smaller and more efficient, fuel cells become more viable in a significant way to power the ship's hotel functions. We will begin testing those possibilities as soon as we can and look to maximize their use when Icon class debuts."
Icon is the first new ship class announced by RCL since Celebrity Cruises' new Edge class, which debuts in 2018. The company is also expanding its fleet with new Oasis- and Quantum-class ships for Royal Caribbean International.
This order, contingent upon the completion of contractual conditions, is expected to be finalized by year-end.