The global electric vehicle (EV) charger market will grow from more than 1 million units in 2014 to more than 12.7 million units in 2020, forecasts a new report by IHS Inc. The report investigates the current and future regional deployments of EV charging stations and identifies factors for future growth.
'Deployments of EV charging stations are critical to enable a widespread adoption of electric plug-in vehicles,' says Ben Scott, senior analyst at IHS Automotive. 'Most charging stations are expected to be installed in domestic applications, such as a dedicated wall box or simply a charging cord plugged into a household power source."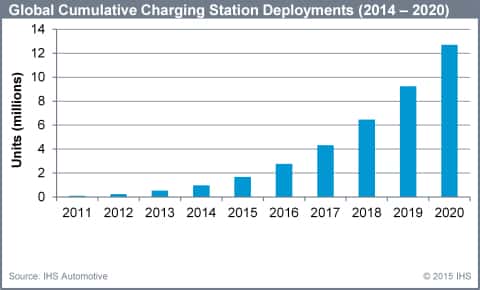 According to IHS Automotive, the global production market for all-electric vehicles and plug-in hybrid electric vehicles (PHEVs) is expected to grow significantly between 2014 and 2020.
EV AC vs. DC Charging Stations
As the report explains, there are two main types of plug-in EV charging stations: AC or DC. An AC charging station supplies current to the on-board vehicle charger and typically provides 5-15 miles of electric range per 30-minute charge, while a DC charging station supplies current directly to the vehicle battery and typically provides about 80 miles of electric range per 30 minute charge, the report says.
"AC charging stations are the dominant type of plug-in vehicle charging type, and we expect AC charging to retain its position long-term," says Scott. "AC charging is also an inexpensive and convenient way of charging, requiring much smaller upgrades of the electricity grid, whereas DC charging is best suited for "en route' charging."
Because of this, IHS Automotive foresees that AC charging is to play a crucial role in the public domain of the EV charging infrastructure. According to the report, approximately 10% of EV charging stations by 2020 will be within the public or semi-public domain, whereas the global DC charging stations are expected to be relatively low and located on the outskirts of cities and highway infrastructure, rather than located in dense urban areas.
The report finds that the deployments of the charging stations are dependent on a highly variable price range. The price can range from $395 for a simple domestic wall box to more than $35,000 for a DC charging station. The report says this figure does not include installation costs that could add $10,000 in the case of a DC charging station, depending on its location and accessibility.
Germany and France: "Sleeping Giants" of E-Mobility
"Japan is a key growth region for the EV charging stations and recently passed a key milestone by having more EV charging stations than petrol stations," says Scott.
In Europe, the report discloses, the Netherlands, the U.K. and Norway currently lead the way in terms of a number of charging station deployments.
"We recognize the potential of Germany and France," adds Scott. "They are the "sleeping giants' of e-mobility, but their EV charging station networks are currently underdeveloped with respect to the size of those countries."
Scott also says that the sales of EVs in Germany and France have been relatively low in comparison to other European countries.
"In the U.S., EV charging station deployments are primarily driven at the state level. As an example, the "greener' states, like California, deploy more EV charging stations than others," explains Scott. "This is highly dependent on the individual state's level of incentives and legislation supporting the adoption of EVs, along with regulations for fuel economy."
Japan Leads Globally with CHAdeMO
The report says Japan has more than 2,800 DC fast charging stations, using CHAdeMO, the Japanese fast-charging standard. Japan accounts for roughly 50% of the global total of all CHAdeMO stations, according to the IHS Automotive report.
Europe and North America also have their own fast charging standard, Combined Charger System (CCS). This type of a fast-charging station is supported by the majority of OEMs, such as Audi, BMW, Daimler, Chrysler, Ford, GM, Porsche, and Volkswagen. The report notes vehicles with fast DC charging capability based on the CCS standard have only been on the road since 2013.
From 2010 to 2014, IHS forecasts that just 7% of EVs globally used the CCS charging system and about 65% used the CHAdeMO standard. IHS expects this will change over the short to mid-term, as more vehicles with the CCS standard enter the vehicle parc (vehicles on the road). There will gradually be a more even split between the two DC fast-charging standards, the report says.
PHEV Production to Exceed EV Production
According to the report, the mix of plug-in vehicles (EVs and PHEVs) in the vehicle parc also has an impact on the rollout of EV charging station deployment. IHS Automotive forecasts that in 2016, for the first time, global PHEV production will exceed all-electric vehicle production and is expected to remain that way for the short to mid-term.
The report says the need to meet CO2 targets while remaining cost effective is motivating the accelerated production of PHEVs.
"Although there will be many more plug-in vehicles on the road, realistically, it is the "pure' EVs which will make most use of available charging points," notes Scott. "EV production is also increasing, and we expect charging infrastructure to roll out respectively."
The report says regional markets will encourage EV charging stations, as stations in the public domain will be essential for consumers, and in turn, a developed charging station network may encourage consumers to purchase a "greener' EV over a PHEV.