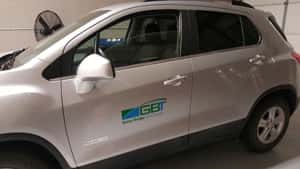 Green Bridge Technologies (GBT) is in the midst of an East Coast road trip meant to showcase its new compressed natural gas (CNG) conversion kits. Spearheading this excursion is a CNG-powered Chevrolet Trax crossover with a conversion kit designed by Kevin Fern of Crazy Diamond Performance (CDP). GBT hopes to sell CDP conversions to fleet managers looking for low-cost, low-emissions transportation solutions.
NGT News caught up with Bradley Wagoner of GBT and Stephe Yborra of Yborra and Associates as they passed through Connecticut, where we learned more about GBT's entry into the NGV market.
GBT is hoping to fill a vacancy in the natural gas vehicle (NGV) market left by the discontinued Honda Civic Natural Gas. Many municipalities in particular require the use of small crossovers or sedans for official use, and the tax credits and grants available for NGVs have made them a popular choice among fleet buyers. Without the Honda Civic Natural Gas, though, fleet buyers have been without an option for a light-duty, dedicated CNG car.
That is where CDP comes in. Fern worked closely with General Motors to design his CNG conversion kits, requiring any authorized installers to only use pre-selected components, rather than allowing installers to swap out key components, such as regulators, for cheaper models. That enables CDP to honor the factory GM warranty of five years/100,000 miles on any of the four vehicles for which GBT currently offers conversions.
"The key to the CDP system is that Kevin won't allow installers to substitute approved components for cheaper replacements," explains Wagoner, GBT's vice president of sales. "This not only provides the highest-quality components for the conversion kits, but makes servicing these vehicles much simpler as well."
In addition to the Chevrolet Trax, GBT is also offering dedicated CNG versions of the Buick Encore crossover – both of which come powered by a 1.4-liter turbo engine producing 130 HP and 150 lb-ft of torque. The Chevrolet Cruze sedan and Chevrolet Sonic subcompact are also offered as dedicated CNG models, utilizing either the aforementioned 1.4-liter turbo or a naturally aspirated 1.8-liter engine. The 1.4 liter turbo is rated at 25 MPG city and 35 MPG highway, offering a range of about 250 miles with a full 8.6 GGE fuel tank.
GBT claims that the CNG conversion takes just eight hours of labor to install and includes CDP's proprietary Clarity Module that has been designed with OEM-level integration. The Clarity Module monitors both high- and low-side temperatures and pressures, delivers a temperature-compensated fuel gauge signal for accurate readings, and generates diagnostics for fuel system sensors and lock-offs, according to GBT.
All of this translated into a seamless driving experiencing during NGT's brief test drive. Acceleration was punctual, the engine idled smoothly, and – save for the sizable CNG tank that takes up the entire cargo area – there were no apparent signs that this was an NGV.
CDP is currently working on CNG conversion kits for other GM vehicles, including full-size pickups and vans.