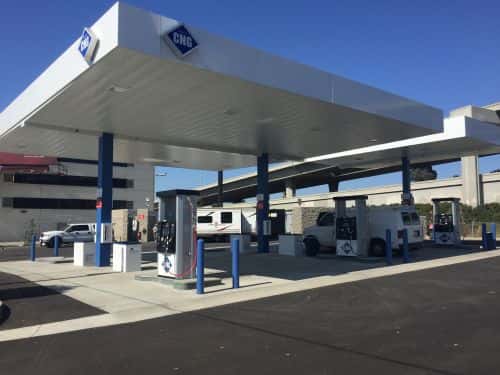 California-based TIMCO CNG has opened a public-access compressed natural gas (CNG) station at 11144 S. La Cienega Blvd., Inglewood, Calif. Pennsylvania-based Evergreen CNG Systems Inc., which commissioned the station, notes in a company press release that the facility is located right near the Los Angeles International Airport (LAX) and the I-405 and I-105 freeways.
Evergreen CNG Systems Inc., a division of Gas & Air Systems Inc., says it provided the compression equipment and engineering assistance to TIMCO. The new station has six nozzles on three dispensers. According to Evergreen, one hose offers a CT-5000 high-flow nozzle for heavy-duty vehicles, and two Evergreen 300 hp compressors provide flow rates up to 810 scfm with approximately 900 GGE/hour peak supply. The station is unmanned and monitored remotely.
Photo courtesy of Evergreen CNG Systems Inc.