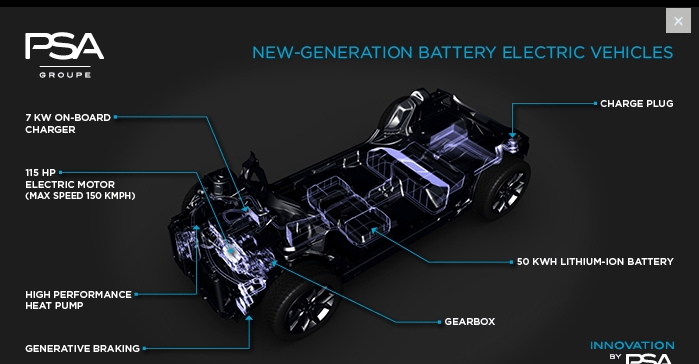 PSA Group, parent company of Peugeot, Citroen and DS brands, presented its new electrification strategy today that seeks to consolidate the development of its models on two global modular platforms, which will allow the company to offer a wide range of internal combustion, electric and plug-in hybrid petrol models as from 2019.
According to PSA, both platforms will be compatible with the manufacturing resources put in place as part of the Plant of the Future program.
The Common Modular Platform (CMP), which was developed in partnership with DFM (Dongfeng Motors), is dedicated to compact city cars, core sedans and compact SUVs. The company says that the all-electric e-CMP format co-financed by PSA Group and DFM will allow the two parties to offer a new generation of spacious, multi-purpose electric vehicles with a driving range of up to 450 km and ultra-fast charging solutions providing up to 12 km of driving per minute of charging.
PSA says that four electric models will be introduced by 2021, and the first of which will reach the market in 2019.
The Efficient Modular Platform (EMP2), which is dedicated to compact and premium models, was launched first in 2013 with the new Citroën C4 Picasso and Peugeot 308 and then in 2014 in China. PSA asserts that from 2019 onward, its design will enable the deployment of the first plug-in hybrid petrol models equipped with hybrid technology:
SUVs and CUVs with high-performance electric four-wheel drive;
A 60 km driving range in all-electric mode;
A large interior that does not compromise on passenger comfort or boot space; and
Leading-edge fuel efficiency in urban driving conditions (40% efficiency gains versus internal combustion models).
According to PSA, the plug-in hybrid models will come with a four-hour charging system as well as an optional feature for recharging the battery more quickly – in less than two hours. The company says seven plug-in hybrid vehicles will be gradually introduced between 2019 and 2021.