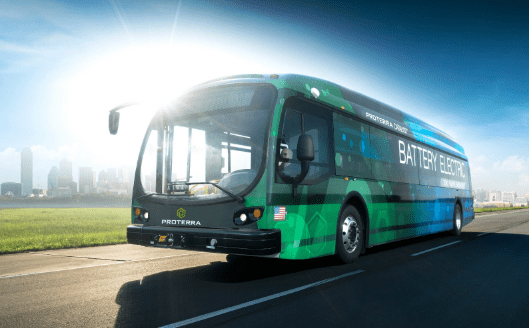 Proterra, a developer and manufacturer of zero-emission vehicles, has unveiled the newest addition to its fleet of zero-emission vehicles: the Catalyst E2 series, named for its Efficient Energy (E2) storage capacity of 440 kWh to 660 kWh.
The company states that last month, an E2 series vehicle achieved a new milestone at Michelin's Laurens Proving Grounds, where it logged more than 600 miles on a single charge under test conditions.
According to Proterra, its nominal range of 194 miles to 350 miles means the Catalyst E2 series is capable of serving the full daily mileage needs of nearly every U.S. mass transit route on a single charge, offering the transit industry the first direct replacement for fossil-fueled transit vehicles.
The high-mileage Catalyst E2 series joins the existing Catalyst FC and XR series vehicles, designed for circulator and intermediate-mileage routes, respectively.
Doran Barnes, executive director at Foothill Transit, said, "We just surpassed 1 million miles of revenue service with our battery-electric Proterra fleet, and we're looking forward to many more miles to come. Since our first EV bus procurement with Proterra in 2010, we knew that zero-emission buses were the future of mass transit. Now, with the new Catalyst E2, this vision is a reality."
Doubling production in 2017 to serve unprecedented customer demand, Proterra will have both of its manufacturing lines in full operation in Greenville, S.C., and the City of Industry, Calif. To date, Proterra buses across the U.S. have completed over 2.5 million miles of revenue service, displacing 540,000 gallons of diesel and eliminating over 10 million pounds of carbon emissions.
"Proterra's primary goal has always been to create a purpose-built, high-performance electric vehicle that can serve every single transit route in the United States. Today, with the unveiling of the Catalyst E2 Series, that goal has been achieved," said Ryan Popple, CEO of Proterra.
"The question is no longer who will be an early adopter of this technology but rather who will be the last to commit to a future of clean, efficient and sustainable mobility," he added. "With the Catalyst E2 offering a no-compromise replacement for all fossil fuel buses, battery-electric vehicles have now broken down the final barrier to widespread market adoption."