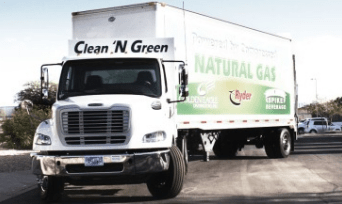 Ryder System Inc., a provider of commercial fleet management, dedicated transportation and supply-chain solutions, says that Postal Fleet Services Inc. has signed a Ryder ChoiceLease full-service agreement for 20 compressed natural gas (CNG) heavy-duty vehicles for mail delivery operations in Orlando, Fla.; Lafayette, La.; Jackson, Miss.; and La Vergne, Tenn.
According to Ryder, the 20 CNG vehicles will now be added to Ryder's existing fleet of diesel-powered vehicles that support Postal Fleet Services' mail distribution operations. The vehicles will be serviced by Ryder's maintenance network of natural gas vehicle (NGV)-trained technicians within Ryder's maintenance facilities that meet the compliance requirements for servicing advanced fuel vehicles.
"Postal Fleet Services takes pride in being a mail delivery contractor where we have the ability to respond to our customer's additional needs in minutes. We can now continue to perform above their expectations, while operating more cost-efficiently and environmentally friendly," says Don Dorris, owner of Postal Fleet Services.
"Ryder has been extremely responsive to our service needs, which makes us confident about our continued relationship as their help is critical to provide the logistics expertise, knowledge and know-how needed to ensure that the fleet is operating at its best," he adds.
"Ryder continues to see demand for natural gas vehicles from businesses that are looking through a longer-term lens and want to realize the environmental and fuel efficiency benefits," says Dennis Cooke, Ryder's president of global fleet management solutions.
"When companies outsource to Ryder, they get the benefits of our extensive experience operating and maintaining natural gas fleets, so they can reduce risk, maximize performance, speed return on investment, and focus on driving what matters to them – managing their core business and servicing their customers," Cooke says.
Ryder boasts it has 22 NGV maintenance facilities and more than 5,500 NGV trained maintenance and support personnel. With the deployment of the NGVs in Postal Fleets Services' fleet in Tennessee and Mississippi, Ryder has now expanded its NGV offering, including CNG and liquefied natural gas, into 16 states and two Canadian provinces.