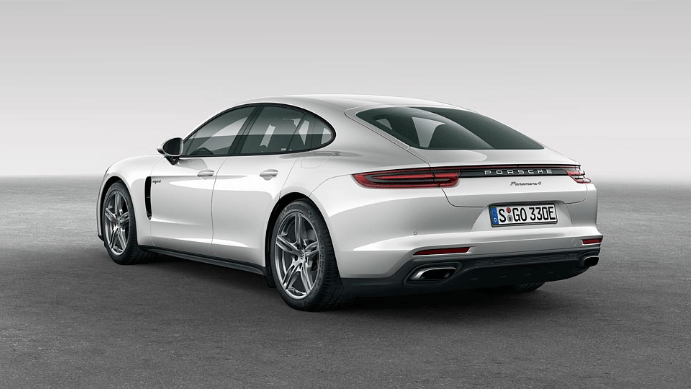 Porsche will unveil the Panamera 4 E-Hybrid with controlled all-wheel drive and an electric range of 31 miles at the upcoming Paris Motor Show. According to the automaker, the plug-in hybrid will be the fourth model in the Panamera line.
As reported, the vehicle generates 340 kW of system power and delivers fuel consumption figures of 2.5 l/100 km (94 mpg) in the New European Driving Cycle for plug-in hybrid models. That corresponds to CO2 emissions of 56 g/km.
Porsche says the Panamera 4 E-Hybrid is available to order now, with prices starting at $122,000.
The new Porsche plug-in hybrid always starts in the purely electric "E-Power" mode and drives without generating any local emissions within a range of 50 kilometers and a maximum speed of 140 km/h. The all-wheel Porsche achieves a top speed of 278 km/h and delivers a system torque of 700 Nm from stationary without hesitation. The four-door hybrid sports car breaks the 100 km/h barrier in just 4.6 seconds.
According to Porsche, the new Panamera 4 E-Hybrid features a hybrid strategy never before seen in this segment – a strategy based on the 918 Spyder. As with the 918 Spyder, the power of the Panamera electric motor – 100 kW and 400 Nm torque – is made available as soon as the driver touches the accelerator pedal.
Like with the 918 Spyder, the electric motor is available to deliver additional power at all times. This, together with the performance characteristics of the new 2.9-liter V6 biturbo engine (243 kW/330 hp/450 Nm), generates a significant boost scenario based on electric motor and turbochargers.
The high-voltage battery takes just 5.8 hours to fully charge via a 230 V, 10-A connection. If the driver chooses to use the optional 7.2 kW onboard charger and a 230 V, 32-A connection instead of the standard 3.6 kW charger on the Panamera, the battery fully charges in just 3.6 hours.
The first units in Europe will be delivered from mid-April. Deliveries in all other continents will follow in 2017.