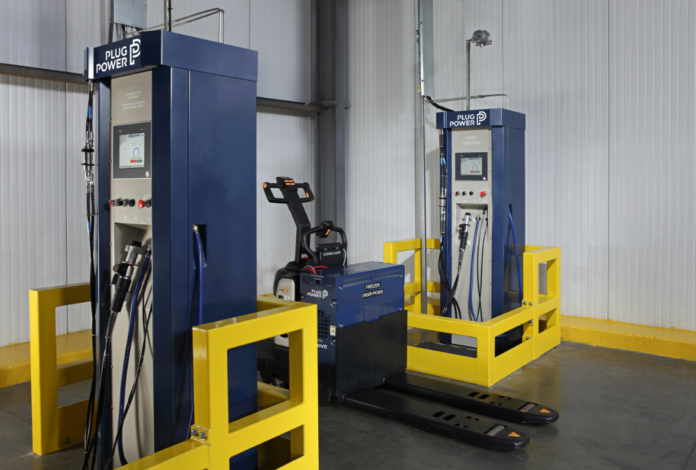 Plug Power Inc. has announced a new collaborative agreement with Walmart to expand the companies' ongoing relationship and support Walmart's expanded use of Plug Power hydrogen fuel cells in its distribution center material handling fleet.
Under the agreement, Plug Power expects to provide its GenKey hydrogen fueling station and fuel cell energy solutions to up to 30 additional Walmart sites in North America over the next three years, with 10 sites already under contract and scheduled to be finished by the end of 2017.
As reported, the value of these 2017 commitments is expected to be around $80 million.
On average, Plug Power has deployed a new Walmart site every six weeks since 2014, resulting in a deployed fleet of 5,500 Plug Power fuel cells at 22 of Walmart's U.S. distribution centers as of the end of 2016.
This new agreement is a key milestone in a longstanding relationship with Walmart, which has been at the forefront of fuel cell technology adoption and commercialization in material handling, becoming Plug Power's first GenKey customer in 2014. Plug Power supplies the retail giant with fuel cells, hydrogen fueling stations, and ongoing maintenance services.
Andy Marsh, CEO of Plug Power, says, "Walmart's long-term supply agreement is a great example of our strategy in action, as it enables us to improve both our revenue visibility and cost structure, all while allowing our customers to experience improved productivity and operational cost savings. We see a growing market opportunity for our power and fueling station technologies within the material handling segment, as well as new mobility applications worldwide, positioning us for long-term success and shareholder value creation."
Today, Walmart operates the largest fleet of hydrogen fuel cell-powered electric vehicles in the world, totaling more than 6,600 units in distribution centers across North America. Plug Power explains that hydrogen fuel cell technology replaces traditional lead-acid batteries, helping customers increase warehouse productivity with a more energy efficient solution, while reducing the costs and sustainability issues related to traditional battery maintenance.
"Plug Power's material handling solutions represent a critical component in our supply chain," says Jeff Smith, senior director of logistics maintenance and purchasing services. "Plug Power's hydrogen fuel cell technology, coupled with their innovative fueling stations has proven to be a reliable, cost-effective alternative to traditional energy solutions."
In addition to the GenKey contract, Walmart and Plug Power will continue to collaborate on developing, testing and commercializing new motive power applications that utilize Plug Power's ProGen line of fuel cell engines and systems.
For the full release, click here.