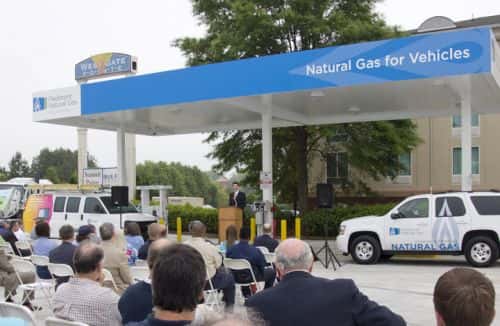 Piedmont Natural Gas, an energy company that focuses on natural gas distribution in three eastern states, has opened a new compressed natural gas (CNG) refueling station in Spartanburg, S.C.
This public-access facility is Piedmont's ninth CNG station within its service territory, which includes North Carolina, South Carolina and Tennessee. Existing locations are in Charlotte, Fayetteville, Goldsboro, Greensboro, High Point and Winston-Salem in North Carolina; Greenville in South Carolina; and in Nashville.
'With clean-burning, affordable natural gas produced right here in the U.S., corporate fleet owners can cut their costs, reduce their carbon footprint and increase our nation's energy security all at once,' says Karl Newlin, Piedmont's senior vice president and chief financial officer.
The new facility is located at Piedmont's Spartanburg Resource Center at 501 West Blackstock Rd. Fleets such as AT&T will be refueling at the station, and Piedmont itself has a complement of natural gas vehicles. The company's goal is to have about 300 NGVs in its corporate fleet by the end of 2014, representing a third of all vehicles.
The retail price of CNG at the station this week is $1.95/GGE.
Photo courtesy of Piedmont Natural Gas