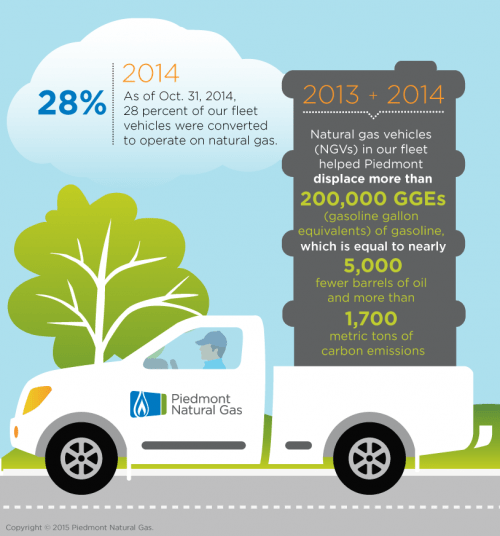 As part of its 2015 Sustainability Report, Piedmont Natural Gas, an energy company that focuses on natural gas distribution in North Carolina, South Carolina and Tennessee, has provided an update on its fleet conversion to compressed natural gas (CNG).
The company says the report offers a comprehensive look at Piedmont's various efforts to integrate environmental, social and economic sustainability into all aspects of its business operations.
According to the report, Piedmont is close to reaching a goal it set two years ago to have 30% of its fleet vehicles run on CNG. As of Oct. 31, 2014, the company has converted about 300 vehicles, or 28% of its fleet, to natural gas.
During 2013 and 2014, Piedmont says the CNG vehicles helped displace more than 200,000 GGEs of gasoline, "which is equal to nearly 5,000 fewer barrels of oil and more than 1,700 metric tons of carbon emissions."
Piedmont says in the report that it is also helping commercial and private vehicle owners go green with its network of public CNG fueling stations, including its 10th station scheduled to open in September in Anderson, S.C.
Furthermore, the company notes, Piedmont continues to provide partial reimbursement to employees who purchase CNG vehicles.
The full 2015 Sustainability Report is available here.