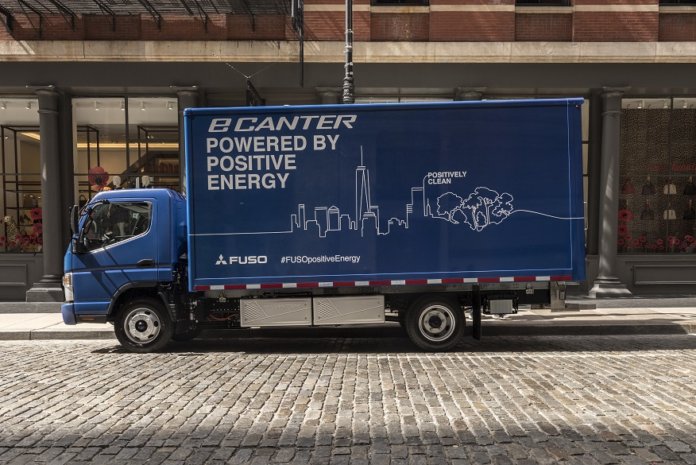 Penske Truck Leasing is adding FUSO eCanter battery-electric work trucks to its logistics, leasing and rental fleets.
Penske says it is among the first fleet operators to take delivery of these limited-production, medium-duty vehicles.
"We're pleased to begin introducing the eCanter into our fleet," comments Brian Hard, president and CEO of Penske Truck Leasing. "We continue to invest in the latest viable innovative vehicle technologies to benefit our customers. With an initial estimated range of up to 80 miles and a fast-charging option, the eCanter is a viable option for fleets seeking to reduce tailpipe emissions and noise pollution in urban delivery settings."
Penske will initially take delivery of four FUSO eCanter battery-electric work trucks for use in California. The introduction of the vehicles into Penske's fleet is another in a series of recent moves the company has made to test electric vehicles with its customers, including the Freightliner eM2 and eCascadia from Daimler Trucks North America, a sister organization of FUSO.
FUSO claims to be the first to commercialize a series-produced, all-electric work truck. Through the backing of its parent, Daimler A.G., FUSO can support the operation of eCanter trucks through its parts, service and warranty network of FUSO dealerships.
"Our leadership in electric trucks answers, today, the public's need for zero-tailpipe-emissions, zero-noise trucks for continuously increasing demands for inner-city distribution," says Justin Palmer, president and CEO of Mitsubishi Fuso Truck of America Inc. "We applaud early-adopters such as Penske for their leadership and partnership. These remarkable eCanter truck operators are building the case that electric trucks are an essential part of the future of inner-city distribution."