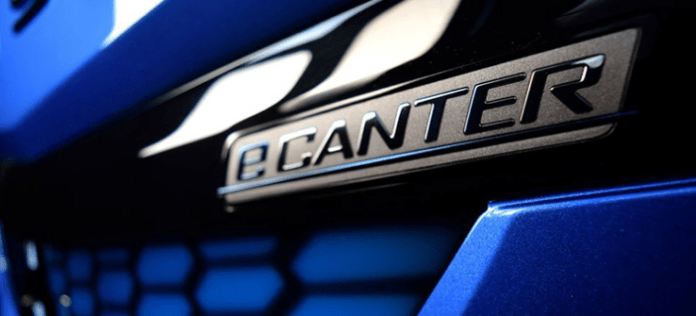 Mitsubishi Fuso Truck of America Inc. (FUSO), a subsidiary of Daimler Trucks Asia, says it will bring limited-production line, fully electric trucks to market in the U.S., Japan and Europe before the end of this year.
Dubbed the eCanter, this new, all-electric, battery-powered, medium-duty work truck will be the first 100% plug-in electric work truck designed and produced by a major truck manufacturer, FUSO says. The eCanter is a Class 4 truck with a 15,995 lb GVWR and a payload capacity of roughly 9,380 lb. It also has a practical range of up to 100 miles, one-hour quick charge capability and a standard eight-hour overnight charge, according to the company FUSO.
"We believe the eCanter will help us chart the future of medium-duty trucking in urban environments. It delivers up to a 100-mile range, with zero emissions and zero noise pollution – what we call positive energy," says Jecka Glasman, FUSO's president and CEO.
In addition, the company adds that the eCanter also offers flexible battery configurations, so end users can choose between maximizing its range to its full capacity of 100 miles or working with a smaller range in order to maximize its payload.
"While the new eCanter has a different look than our standard FE Series cabovers, the electric drivetrain is fitted to our standard 151.6-inch-wheelbase cab chassis – so customers and upfitters will find the same maneuverability and the same familiar 33.5-inch-wide frame, same body attachment capability, cab-to-axle dimensions, and box sizes as they've enjoyed with our traditional turbocharged diesel cabovers," says Otto Schmid, FUSO's director for product management.
He adds, "The eCanter includes a high-capacity electric power take-off, so the eCanter can be used for refrigerated applications and those requiring a liftgate or other auxiliary device."
FUSO says that the first production models are scheduled to arrive in the U.S. later this year.