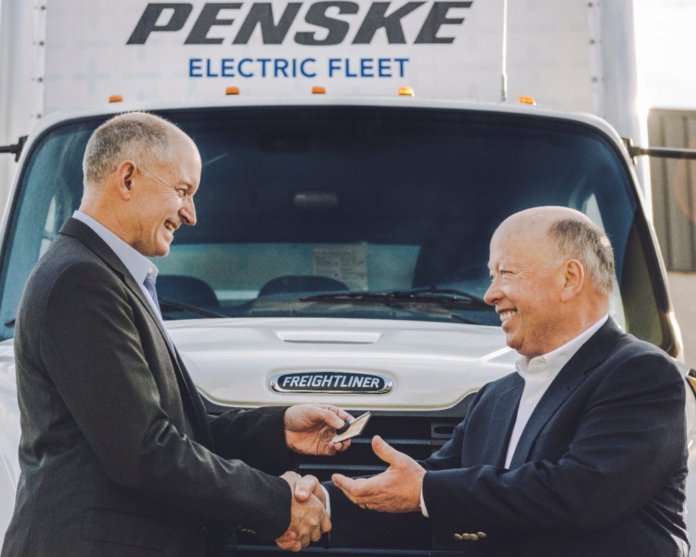 Daimler Trucks North America (DTNA) has delivered the first vehicle in its Freightliner Electric Innovation Fleet – a Freightliner eM2 – to Penske Truck Leasing, fulfilling the manufacturer's promise to put an electric commercial truck in customer hands in 2018.
Roger Nielsen, president and CEO of DTNA, ceremonially handed over the eM2 key to Brian Hard, president and CEO of Penske Truck Leasing, during an event in Carson, Calif., today.
"With increased hauling demands and regulatory pressures, combined with ongoing concerns over energy resource depletion, it is more important than ever that DTNA continues to rigorously test and research electric vehicle solutions together with our customers," said Nielsen. "Electric commercial vehicles present a real opportunity to advance the ideal of emissions-free mobility while improving our customers' real cost of ownership."
"Penske is honored to be the first company to put this new medium-duty electric truck into service," said Hard. "I commend and thank Roger Nielsen and his team at Daimler Trucks North America for their outstanding collaboration and spirit of co-creation with us over the last nine months to bring this innovative technology to market."
Penske Truck Leasing will install 20 high-power charging stations across five of its California locations starting this month. Next year, Penske will put an additional nine medium-duty electric eM2 trucks and 10 heavy-duty eCascadia electric trucks into targeted service in California and the Pacific Northwest. The company will place the electric vehicles into service within its logistics, truck leasing and truck rental fleets.
Also participating in the ceremony was Judy Mitchell, a governing board member at the South Coast Air Quality Management District (SCAQMD). The Freightliner Electric Innovation Fleet is partially funded with a nearly $16 million grant from SCAQMD. The U.S. Environmental Protection Agency and the ports of Los Angeles and Long Beach also contributed to the grant.
"SCAQMD is using every tool in its tool box to bring cleaner and more efficient technology to the marketplace to reduce harmful mobile and stationary source emissions to our region," said Mitchell.
Following the handover ceremony, the keys to the eM2 were turned over to Santa Claus, who made a delivery of native plant seedlings to help restore communities suffering from wildfire damage. Along with the seedling delivery, DTNA and Penske Truck Leasing made a joint $50,000 donation to TreePeople, a local nonprofit that plants and cares for trees throughout Los Angeles County and nearby mountain forests.
Earlier this year, DTNA formed the Freightliner Electric Vehicle Council, composed of 30 customers with strong use cases for electric trucks, including Penske Truck Leasing.
The Freightliner eM2 truck is an electrified solution for local distribution, pickup and delivery, food and beverage delivery, and last-mile logistics applications. The Freightliner eCascadia is a Class 8 tractor designed for local and regional distribution and drayage. Both trucks will enter series production in 2021. The Freightliner eCascadia and eM2 are part of Daimler Trucks' global electrified truck initiative, joining the company's Thomas Built Buses all-electric Saf-T-Liner eC2 school bus, the FUSO eCanter and the Mercedes-Benz eActros.