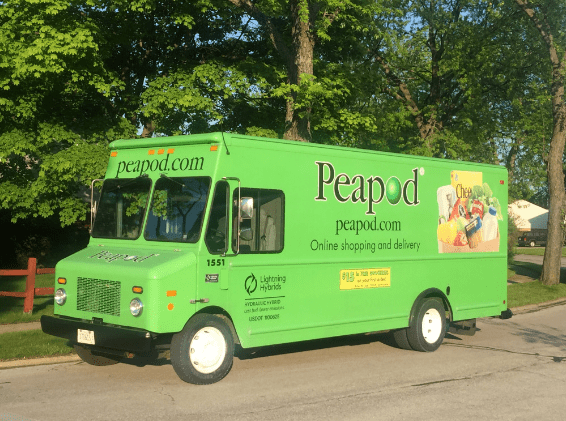 Online grocer Peapod has taken delivery of its first two fuel-efficient, hydraulic hybrid delivery trucks – existing Workhorse walk-in vans equipped with GM gasoline engines and Lightning Hybrids' Energy Recovery System (ERS).
According to Lightning Hybrids, the designer and manufacturer of the ERS for medium- and heavy-duty fleet vehicles, the delivery trucks are in service on the streets of Chicago and were partially paid for by the Drive Clean Chicago voucher program for clean vehicles.
The trucks, the first hydraulic hybrids in Peapod's fleet of approximately 130 vehicles in the Midwest, are expected to significantly reduce fuel consumption, reduce brake maintenance costs and cut emissions for cleaner air in the neighborhoods where Peapod delivers.
"Every Peapod truck on the road eliminates the need for an average of 20 passenger vehicles to drive to the grocery store. The addition of these hydraulic hybrid trucks to the Peapod fleet further increases the benefit and reduces our carbon footprint," says Claudia Fikert, transportation fleet administrator for Peapod's Midwest region. "The Drive Clean Chicago voucher program made it easy for us to add the Lightning Hybrids system to our mix of effective ways to reduce emissions, as well as increase fuel efficiency and make Peapod a better neighbor in the communities we serve."
The ERS system was made and assembled at Lightning Hybrids' Loveland, Colo., manufacturing and engineering facilities and was installed on the trucks at the Advanced VTech facilities in Buffalo Grove, Ill., according to Lightning Hybrids.
"The ERS system that we installed offers a quick return on investment due to outstanding fuel and brake savings," says Ron Sheble, vice president of finance for Advanced VTech. "We retrofitted the hydraulic hybrid system to standard Peapod delivery vehicles with minimum downtime. We expect emissions to be reduced by 50 percent, and the vehicles now have more power for acceleration and smoother braking."
"Our ERS is perfect for Peapod's urban and suburban routes and will lower their fuel costs," says David Brosky, vice president of sales for Lightning Hybrids. "The Drive Clean Chicago voucher program provides a strong incentive for fleets that may be on the fence about trying a different technology."
Lightning Hybrids says it currently has systems operating in fleets around the world, with orders for more in Chicago and Massachusetts in the next month.