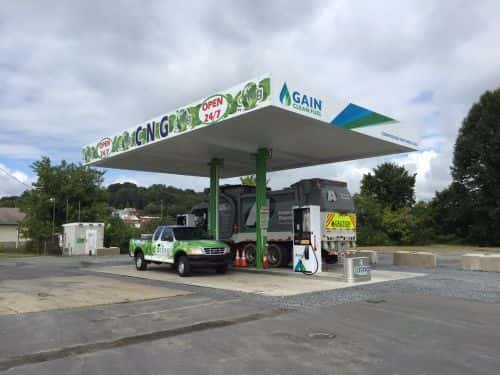 U.S. Gain, a division of U.S. Venture in charge of the GAIN Clean Fuel brand, has announced the opening of a revamped compressed natural gas (CNG) station under its partnership with 'O' Ring CNG Fuel Systems LP. The public station, located at 301 DuBois St. in DuBois, Pa., is now co-branded as an 'O' Ring CNG/GAIN Clean Fuel station.
In February, U.S. Gain revealed an alliance to co-brand four of 'O' Ring's existing CNG stations in Pennsylvania and incorporate them into the nationwide network of GAIN Clean Fuel stations.
In addition to the DuBois facility, the other stations included in the deal are located in Brookville, Bentleyville and Punxsutawney. A U.S. Gain spokesperson tells NGT News the DuBois project represents the third completed under the partnership, and work at the Puxatawny location is still under way.
In a U.S. Gain press release, "O" Ring CEO Robert Beatty says the companies' alliance "builds on our capabilities to serve GAIN Clean Fuel's partner carriers while meeting the needs of the fleets whom we've already partnered with. This partnership has created a business model that will generate positive outcomes for everyone."
"We've established a great working relationship with "O" Ring over the last year, and we're excited about continuing our collaboration with this latest site," adds Bill Renz, general manager for U.S. Gain, in the release. "This location builds upon the strong GAIN Clean Fuel network in the Northeast United States and will provide additional CNG access for both regional and national carriers."
Photo courtesy of U.S. Gain