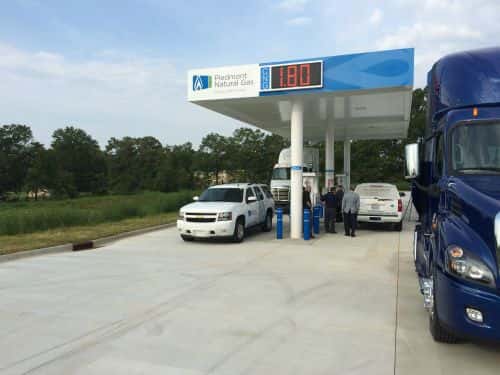 Piedmont Natural Gas, an energy services company that focuses on natural gas distribution in three eastern states, and The Spinx Co., a convenience store operator, have celebrated the opening of a public compressed natural gas (CNG) station in Andersen S.C.
Located at 1207 SC Highway 28 Bypass, the station is Piedmont's third public CNG refueling facility in South Carolina and its first station located at an existing convenience store. Piedmont also notes the Andersen station's compression and dispensing equipment was supplied by ANGI Energy Systems.
U.S. Rep. Jeff Duncan, who represents South Carolina's 3rd Congressional District, joined executives from Piedmont and Spinx to mark the occasion. The event featured refueling demonstrations with several types of vehicles that will use the station, including passenger and commercial fleet vehicles.
'Piedmont Natural Gas is excited about partnering with Spinx to serve the growing number of companies and fleet vehicles using CNG,' said Karl Newlin, senior vice president and chief financial officer for Piedmont. 'More businesses are choosing natural gas because it is an economical and environmentally responsible alternative to gasoline and other transportation fuels. Providing greater access to this abundant, low-cost energy source is an important part of Piedmont's larger commitment to growing CNG as an alternative transportation fuel.'
'Spinx has been the leader in providing innovative fueling options to our customers since 1972, and the CNG fuel option is an important new choice for fleet operators and individual motorists who appreciate the benefits of natural gas,' said Stewart Spinks, founder and chairman of The Spinx Co. 'We are committed to continuing our leadership in this area, and so are especially proud of our new partnership with Piedmont Natural Gas.'
With the opening of the Anderson station, Piedmont now operates 10 public CNG refueling stations throughout North Carolina, South Carolina and Tennessee. Piedmont also is working with corporate fleet owners and municipalities to install dedicated CNG refueling facilities at their locations. In addition, Piedmont has converted approximately one-third of its own corporate fleet to vehicles that run on CNG.