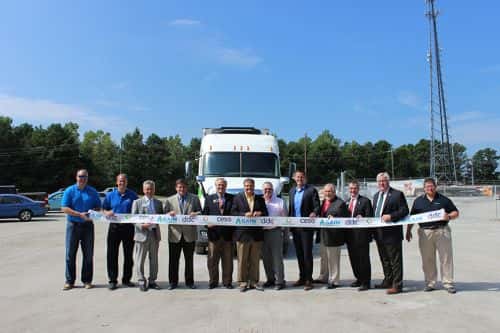 On Thursday, Core-Mark and U.S. Gain, as well as government officials, celebrated the grand opening of a new GAIN Clean Fuel compressed natural gas (CNG) station in Smyrna, Ga.
U.S. Gain, a division of U.S. Venture that owns the GAIN Clean Fuel brand, initially announced completion of the project in late June. The fast-fill station is located at 2561 Plant Atkinson Rd. and represents the fourth of five CNG stations to go into operation under U.S. Gain's partnership with Core-Mark. According to U.S. Gain, the Smyrna station will fuel Core-Mark's fleet of CNG trucks, as well as be open to other fleets and the public.
At Thursday's event, Georgia Public Service Commissioner Tim Echols congratulated Core-Mark and U.S. Gain for the project.
"We're thrilled to see what this partnership has accomplished," said Echols. "Access to a strong network of CNG stations is critical to encourage more businesses to implement it, and we applaud U.S. Gain for building that network. We also applaud Core-Mark for its forward thinking."
Cobb County Commission Chair Tim Lee couldn't agree more.
"Access is key to spurring businesses to consider converting to CNG, and hopefully, individuals will also look at it as an option," Lee said. "Thank you to Core-mark and U.S. Gain for helping to lead the way."
Core-Mark, one of the largest distributors and marketers of consumer goods in North America, started its commitment to a CNG with an initial conversion of its fleet. Today, the company operates 179 CNG tractors on the road, with more planned in the future.
"We're excited to have this station in service," said Core-Mark Atlanta Division President Brad Heetland. "Clean energy advances our commitment to becoming more environmentally friendly through improved sustainable business practices. Utilizing GAIN Clean Fuel is a key to that success."
The three other stations in operation through this partnership are located in Aurora, Colo.; Sanford, N.C.; and Forest City, Ark. The fifth station is under construction in Tampa, Fla., and slated to be in operation this summer.