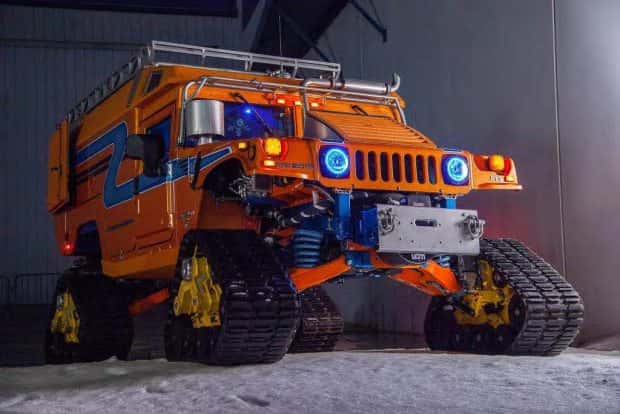 A California nonprofit is set to embark on a 400-mile test drive across the Arctic Ocean in two highly modified 1998 Hummer H1 trucks equipped with snow tracks and plug-in hybrid drivetrains, reports the Alaska Dispatch News. Team members of Drive Around The World will leave Prudhoe Bay, Alaska, oil fields next week, towing a modified Airstream trailer and 600 gallons of additional fuel.
The test run comes ahead of a planned 22-day, 1,200 mile trek across Antarctica scheduled for December that hopes to showcase how renewable fuels are viable even in the harshest climates. The pair of Hummers has been modified to use a synthetic and renewable paraffin kerosene aviation biofuel, though due to budget constraints the vehicles will utilize traditional diesel during the Arctic test.
A pair of 200 HP electric motors from UQM coupled to a 24 kWh lithium superplyomer battery pack work in tandem with the 3.2 liter inline six-cylinder turbodiesel that the Hummer left the production line with. The battery pack is good for about 30 miles of electric-only driving, and with a full tank of 55 gallons of fuel, the Hummers have an approximate driving range of 645 miles. In addition to the modified Airstream trailer, a 600-gallon double-walled fuel bladder will also come along for the trip. Each Hummer is also equipped with an emergency locator beacon and satellite phone, too.
The Alaska expedition is meant to test various systems on the Hummers, such as the battery and engine warming systems, as well as the paddle-track system that replaces the standard-issue tires. The Hummers have been designed to operate in temperatures as low as –60 degrees F, as the average temperature during the Antarctic "summer" hovers around –20 degrees F.
"We shall draft a symbol of military defense for the front lines of environmental defense," says Nick Baggarly, founder and executive director of Drive Around The World. "By taking the first hybrids to the South Pole, we are highlighting technical solutions to our energy challenges in a vivid and dramatic way."
TV producer Rod Roddenbury will chronicle the team's adventure as part of a 10-episode television series.