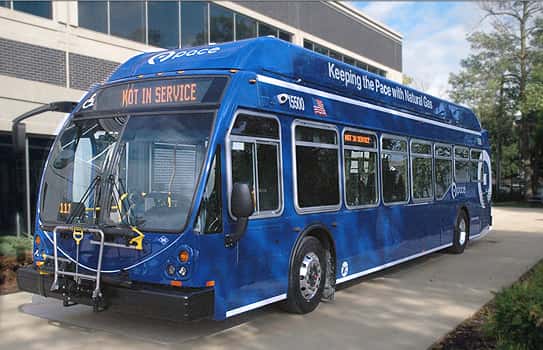 Pace, the suburban bus division of Chicago's Regional Transportation Authority, has taken delivery of its first 20 compressed natural gas (CNG) buses, with an additional 71 on order that will replace the remaining diesel buses at Pace South Division.
The first CNG buses will enter service this summer, following completion of vehicle testing, staff training and additional garage retrofits to accommodate the CNG vehicles. Once the entire South Division fleet is converted to CNG-powered buses, Pace estimates the agency will save up to $1 million on its fuel costs versus what it spends today on diesel fuel, and those savings will rise as other garages are converted to CNG operations in the future.
"We're making a significant investment in clean-burning compressed natural gas to improve our environmental sustainability and also achieve some potentially major cost savings," says Pace Chairman of the Board Richard Kwasneski. "As we achieve these fuel cost savings, we plan to reinvest the resources into enhancing and expanding service for our customers."
Construction of the fueling facility and garage retrofitting is a combined $12 million project, paid for using Pace-issued bonds to be paid off over the next 10 years. The project has created an estimated 200 to 300 direct and indirect jobs, according to various economic impact formulas.
Pace says that it studied the experiences of other U.S. transit agencies with various forms of green technology, including CNG, hybrids and electric buses, and determined that CNG would provide the best economic return. Roughly two in five transit buses in the U.S. are powered by alternative fuels, with one in five powered by CNG.
The new CNG fueling facility will cost approximately $3 million, with an additional $9 million investment in the CNG retrofit and mid-life overhaul of the South Division garage. Although the new CNG buses cost approximately $50,000 more per vehicle than a comparable diesel bus, Pace says the fuel cost savings offset the higher cost. Additionally, Pace may exercise an option to open its CNG fueling facility to other CNG vehicle fleets, and possibly the general public, so that the sale of natural gas could generate additional revenue.