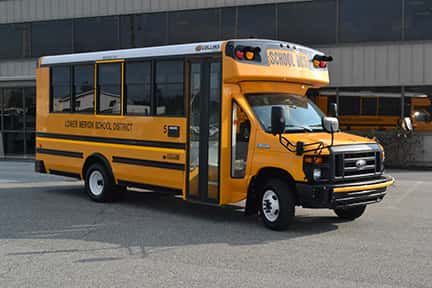 Collins Bus Corp., a subsidiary of motor vehicle manufacturer Allied Specialty Vehicles (ASV), has delivered the first four production units of its new NEXBUS compressed natural gas (CNG) Type A school bus to the Lower Merion School District in Montgomery County, Pa. With more than half of its 117-vehicle fleet fueled by CNG, the Lower Merion School District boasts one of the largest fleets of alternative fuel school buses on the East Coast, according to ASV.
'We are excited to see the delivery of the first Ford factory OEM-approved CNG Type A school bus,' says John Walsh, vice president of sales for ASV Bus. 'The Collins NEXBUS CNG model demonstrates ASV's commitment to meeting customer demands for environmentally friendly vehicles powered by clean alternative fuel systems that reduce carbon emissions.'
The four Collins NEXBUS CNG models, purchased through Wolfington Body Co. in Exton, Pa., are built on a Ford E-450 cutaway truck chassis equipped with a gaseous engine prep package and feature the CNG Westport WiNG Power System, a dedicated natural gas fuel system for light-duty vehicles certified under the Ford Quality Vehicle Modifier (QVM) program. ASV says this certification maintains the Ford factory three-year/36,000-mile chassis engine and powertrain warranty.
'Westport's partnership with Collins is a natural one. Each company brings a commitment to offering the best solution for fleet customers and delivering a quality product of superior performance,' says Paul Shaffer, Westport vice president and managing director responsible for the Westport WiNG business.
According to ASV, NEXBUS is a series of Collins models that feature advanced technologies, such as CNG and other clean alternative fuel systems. Collins has an exclusive agreement to provide the CNG Westport WiNG Power System for Type A school buses built on a Ford chassis.