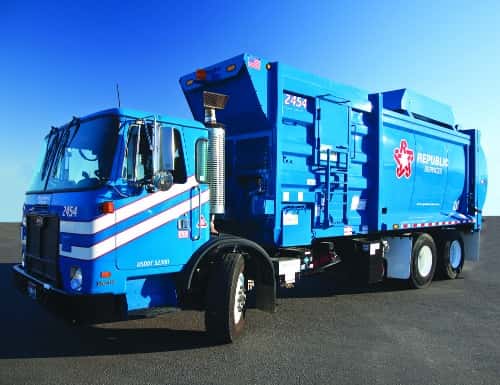 Republic Services Inc. has added 17 compressed natural gas (CNG)-powered solid waste collection trucks to its fleet serving customers throughout the greater Denver area. The new vehicles replace older diesel trucks, and Republic says more than half (82) of the 158 collection trucks it operates in Colorado are now fueled by CNG.
'Everything we do is for our customers,' comments Tim Oudman, area president of Republic Services. 'This fleet expansion represents a significant investment in cleaner, safer and more efficient vehicles locally. It also embodies the responsibility we assume for doing our part to preserve Colorado's considerable natural beauty for future generations.'
Republic adds that it operates a CNG fueling station at its Commerce City location in order to support its expanding Denver-based CNG fleet.
Nationwide, the company operates a fleet of more than 2,200 CNG vehicles and 38 natural gas fueling stations. Republic says its CNG fleet helps save roughly 18 million gallons of diesel fuel annually. Earlier this year, NGT News talked with Republic Services about its CNG plans. That article is available here.
Photo courtesy of Republic Services Inc.