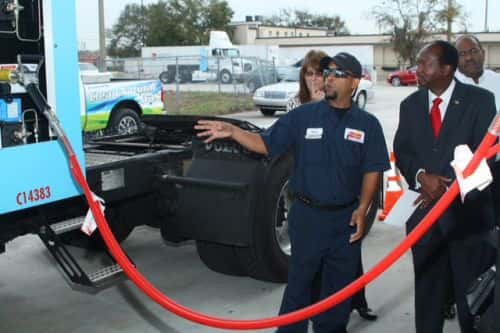 Frito-Lay North America, ampCNG and Trillium CNG have officially debuted new compressed natural gas (CNG) refueling infrastructure in Orlando, Fla., located at 2920 Silver Star Rd.
Amp Trillium, the joint venture between ampCNG and Trillium CNG, developed the facility at Lewis Petroleum's Silver Star Fuelman station in the city's Princeton Industrial Park. This site is two blocks from one of Frito-Lay's centers, and the company will use the new CNG station to refuel its growing fleet of natural-gas-powered heavy-duty trucks.
'This station has the added benefit of providing 24/7 CNG fueling for heavy-duty trucking in the area due to the station's proximity to Interstate 4 and the East-West Expressway,' said Mary Boettcher, president of Trillium CNG.
The amp Trillium fast-fill station features two dual-hose dispensers paired with Trillium CNG's hydraulic intensifier compressor technology, which yields a fill rate of 10 GGE per minute.