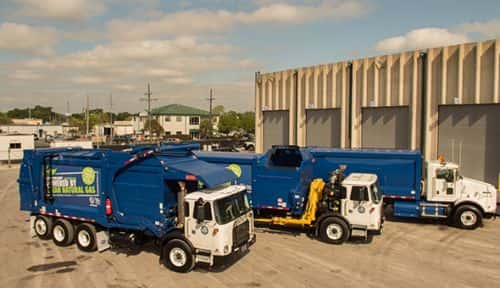 As part of its Green Works initiative, the City of Orlando, Fla., has added five new compressed natural gas (CNG) sanitation trucks to its fleet.
In an announcement, Orlando Mayor Buddy Dyer says the city now has a green fleet comprising 36 hybrid, hydraulic hybrid, electric and CNG vehicles. He says the alternative fuel vehicles 'demonstrate our efforts to incorporate new vehicle technology to reduce or eliminate the consumption of gasoline, diesel fuel and biodiesel.'
Furthermore, Dyer says the new CNG sanitation trucks will further help decrease carbon-dioxide emissions and cut fuel costs, as well as run 90% quieter than conventional trucks.
The mayor also points to other CNG efforts in the Orlando region, noting a recently opened fueling station at the Orlando International Airport and the Florida Regional Transportation Authority's (LYNX) plan to convert its bus fleet to CNG and build a public fueling station.
Photo courtesy of the City of Orlando