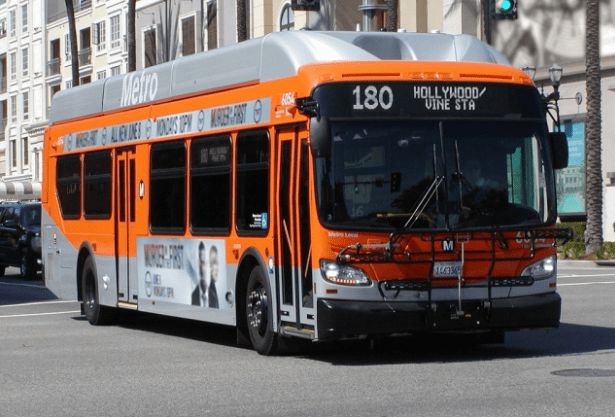 The Los Angeles County Metropolitan Transportation Authority (Metro) has officially received its 900th and final New Flyer XN40 compressed natural gas (CNG) bus from a $508 million contract signed nearly four years ago.
According to Metro, this delivery completes an order for new CNG buses that comprises 40% of the current fleet.
"When Metro awarded a $508 million contract for these buses in January 2013, we knew we were getting the best clean air buses available, but the New Flyer XN40 bus has also proven to be a real workhorse for our agency," says Metro Chair John Fasana.
As reported, Metro's New Flyer buses cover approximately 650,000 miles each week and feature enhanced ADA amenities, including an advanced securement system and additional space for passengers in wheelchairs. The XN40 model is a CNG-powered transit bus from the company's Xcelsior line, which also offers clean diesel, diesel-electric hybrid, electric trolley and battery-electric configurations.
"Having a 21st-century transportation system means doing everything we can to ease congestion in L.A. County, while continuing to protect our environment," says Los Angeles Mayor and Metro First Vice Chair Eric Garcetti. "The delivery of the 900th New Flyer XN40 bus reminds us that we can keep our commitment to cleaner air and healthier communities without sacrificing the quality of our transportation system."
Metro says the New Flyer buses were built in St. Cloud, Minn., with final assembly at a 120,000-square-foot facility in Ontario, Calif., that was opened in late 2013. According to New Flyer, the buses were delivered from September 2013 through October 2016.
Still, Metro wasn't done. In July, the transit agency issued a request for proposals for as many as 1,000 more natural gas buses.
"Metro has the largest clean air fleet in the world, and as technology continues to advance so quickly, the next generation of CNG buses we buy will, in all likelihood, be the cleanest buses of their kind in the world," states Metro CEO Phillip A. Washington.
As previously reported, Metro received a $10.5 million U.S. Department of Transportation grant on Oct. 26 to fund the purchase of 30 next-generation, near-zero-emission CNG buses that will run in the South Bay and Gateway Cities region. These buses will feature new CNG engines that not only are 1,000 times cleaner than the diesel buses Metro operated during the 1980s and '90s, but also will reduce emissions 25% more than even Metro's 2014 CNG transit vehicles.
Having adopted a policy in 1992 to only purchase CNG buses going forward, Metro currently has approximately 2,500 CNG buses on the road that travel more than 85 million miles per year. In total, its CNG buses have operated nearly 1.5 billion miles in the county since the program's inception.