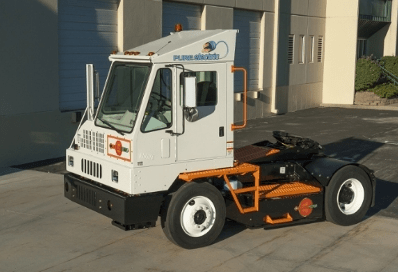 Orange EV, a Kansas City, Mo.-based electrification solutions provider for industrial fleets, has announced that fleets can now save at least $95,000 per truck when purchasing brand-new T-Series pure electric terminal trucks with an extended-duty battery pack.
Specifically, Orange EV says businesses and organizations with fleets in the state of California can now get a preliminary voucher amount of $95,000 per truck, increasable up to $120,000 and stackable with other incentive programs to lower initial purchase price, via HVIP, the state's Hybrid & Zero-Emission Truck & Bus Voucher Incentive Project.
"California HVIP vouchers dramatically simplify and speed up the process of obtaining funds, thereby accelerating vehicle deployment," says Mike Saxton, Orange EV's chief commercial officer. "Orange EV's T-Series and the corresponding voucher amount are all pre-approved, eliminating uncertainty and enabling fleets to execute deployment plans without having to go out-of-pocket for the additional capital."
The company says the voucher request is four pages long, including purchaser terms and conditions, and that it can be approved within days. Participating fleets are required to commit to operating trucks in California for a minimum of three years, after which they may redeploy vehicles as needed. HVIP funds are paid directly to Orange EV in order to directly reduce the capital needed to purchase the T-Series trucks.
The company adds that the balance can be financed, further reducing initial cash outlay and helping fleets pay the balance from savings in large expense items, such as diesel fuel.
"It makes financial sense to begin deployment now – but if the financial upside of going electric isn't enough, regulatory mandates have increased the urgency," Saxton states.
Mandates such as those in California Assembly Bill 32 aim to reduce greenhouse-gas emissions to 1990 levels by 2020, with another 80% reduction below 1990 levels by 2050.