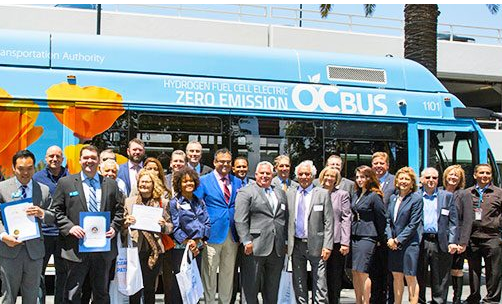 The Orange County Transportation Authority (OCTA) says it has unveiled its first zero-emission hydrogen fuel cell bus as part of a continuing effort to expand and improve an eco-friendly transportation system.
OCTA says the new bus, which is wrapped with a mural of California poppies, is part of a two-year demonstration project to complement its existing fleet. The transport authority currently has approximately 550 buses, of which 97% run on clean-burning natural gas. According to OCTA, 100% of its buses will run on natural gas by the end of this year.
The program, which was funded by the Federal Transit Administration under the National Fuel Cell Bus Program, includes testing and demonstration of fuel cell bus technology.
"As a large urban operator in Southern California, OCTA is setting a strong example for a public agency striving to make positive impacts on the environment," says Darrell Johnson, OCTA's CEO. "We are proactive in our efforts to join the cutting-edge community of hydrogen-fueled transportation."
OCTA will utilize the hydrogen fueling station at the University of California Irvine, which deployed its first fuel cell-powered bus in April 2015.
Numerous state and transportation representatives, including those from the Federal Transit Administration, Center for Transportation and the Environment, Ballard Power Systems, ElDorado National-California, and BAE Systems, joined OCTA officials at the unveiling.
The transport agency states the new bus will run along Route 53 and Route 145.