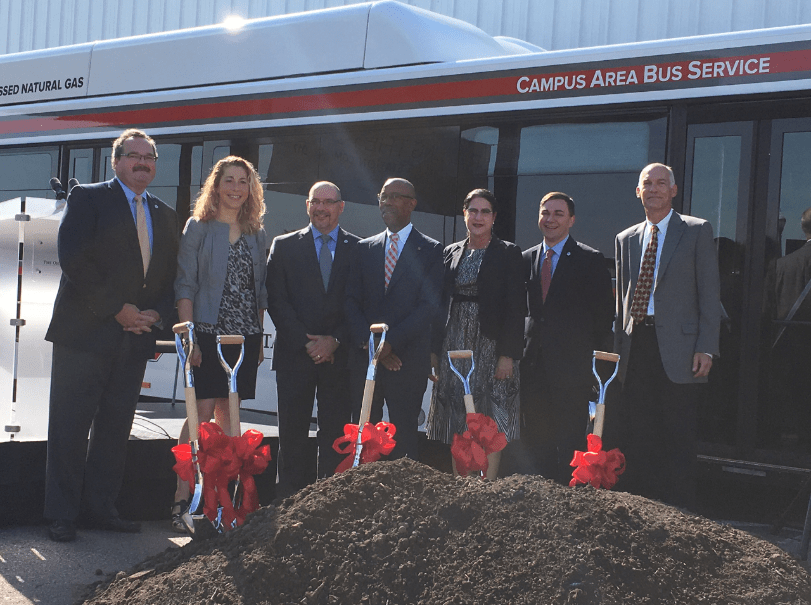 Ohio State University (OSU) says it has broken ground on a new compressed natural gas (CNG) station on-site to serve the university's Department of Transportation and Traffic Management and the City of Columbus, according to a university report.
OSU adds that other university, state agency and Ohio municipalities may also use the new fueling station, which is estimated to cost approximately $3 million.
According to Beth Snoke, director of OSU's Department of Transportation and Traffic Management, the department will pay $2.5 million to build the station, and the remaining $500,000 will be covered by a grant from the Ohio State Sustainability Fund through the President and Provost's Council on Sustainability.
Ohio State President Michael V. Drake states that OSU will continue to explore how the rest of the university fleet, including cars and vans, can be powered by CNG, as well. Specifically, the university's Campus Area Bus Service, which will now fuel some of its fleet at the new station, has set plans to transition all of its fleet vehicles to alternative fuel models over the long term.
The university currently operates four CNG buses and plans to add six more by October 2017.
Per the report, the initiative aligns with Ohio State's sustainability efforts, working to advance sustainability across campus and throughout the community. These efforts include the following:
Collaboration with the City of Columbus and community partners on the $140 million Smart City program to transform central Ohio into the nation's premier transportation innovation region;
Partnership with Stark Area Regional Transit Authority to operate and study a hydrogen fuel cell bus;
Three Discovery Theme proposals that advance sustainability research and innovation; and
Partnerships with sustainability-focused entities across central Ohio, including the Mid-Ohio Regional Planning Commission, COSI and the Mayor's Green Team.
"We are excited to share this Columbus campus CNG fueling station with the City of Columbus," says Snoke. "The City of Columbus operates their own CNG fueling stations, so the Columbus campus fueling station will serve as an additional CNG fueling option for the city's CNG fleet vehicles.
"This station will fuel our four Ohio State Campus Area Bus Service CNG buses as well as the six additional CNG buses that will be joining our fleet fall 2017," she adds. "Our long-term goal is to transition all CABS buses as well as other Ohio State fleet vehicles to alternative fuel models."
Construction on the new station is expected to begin by early 2017.