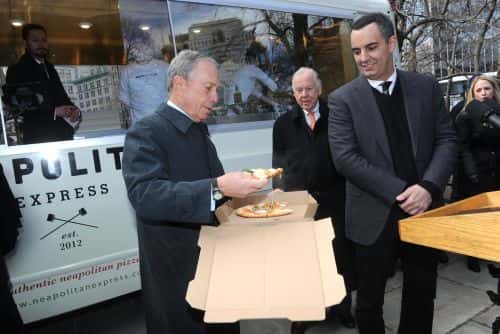 New York City Mayor Michael Bloomberg joined energy industry icon T. Boone Pickens at City Hall Park on Thursday to welcome Neapolitan Express' first food truck powered by compressed natural gas (CNG).
The company, which has plans to launch a fleet of these trucks in and around the city, worked with Pickens' Clean Energy Fuels Corp. and Green Alternative Systems (GAS), an Indiana-based firm that specializes in alternative fuel vehicle conversions. Neapolitan Express' truck will use CNG for both kitchen operations and transportation.
'What we're here to talk about is pizza,' the mayor quipped. 'Every slice comes with a breath of fresh air.'
Bloomberg touted the city's own efforts to promote cleaner fleet operations, such as the 128 natural gas vehicles already in operation in New York. These vehicles refuel at three CNG stations in the city.
Pickens, whose outreach has historically focused on energy independence and American jobs, was succinct in his message for the day: 'Get off OPEC oil, and get on the mayor's plan.'
Photo courtesy of the Pickens Plan, pickensplan.com