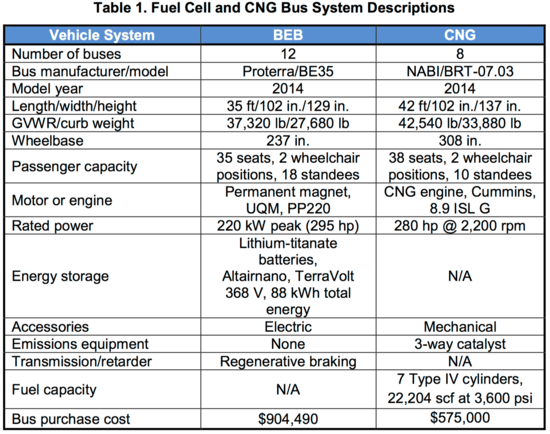 A report from the National Renewable Energy Laboratory (NREL) found that Proterra's battery-electric buses (BEBs) were nearly four-times more fuel efficient than their compressed natural gas (CNG) counterparts. The study focuses on a 12-vehicle demonstration by the Foothill Transit Agency in California from April 2014 through July 2015.
The NREL team found that BEBs used, on average, about 2.15 kWh per mile over nearly 400,000 miles of on-road testing. That is the equivalent of about 17.48 miles per diesel gallon equivalent (DGE). NREL selected NABI CNG buses as their baseline comparison vehicle, which they say had an average fuel economy of just 4.51 DGE.
The Proterra BEBs were also more reliable than the baseline CNG buses, measured as miles between roadcalls (MBRC). The BEBs achieved a MBRC of 133,000, which the NREL researchers said was "exceptional for an advanced technology bus in the early stage of commercialization." During the data period, there were just three roadcalls related to the battery-electric drive system that powers the Proterra buses.
In comparison, the baseline CNG buses had a MBRC of about 45,000, which NREL said is "expected" of a new, fully commercial vehicle.
The BEBs were on the road an average of 13.2 hours per day, receiving a 20 kWh recharge about 13 times a day. However, the Proterra BEBs have a price tag of $904,000 each, compared with $575,000 for the baseline CNG bus. NREL plans to continue evaluating the in-service performance of the Proterra BEBs for another year before publishing another report.