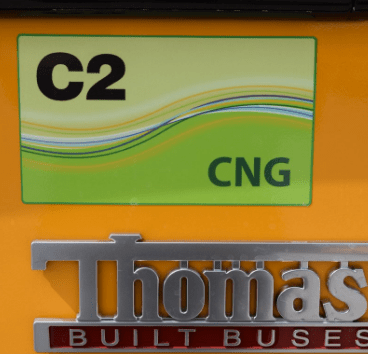 The North Kansas City School District in Missouri says it has purchased 110 Saf-T-Liner C2 compressed natural gas (CNG) units from Thomas Built Buses, the High Point, N.C.-based subsidiary of Daimler Trucks North America LLC, the largest heavy-duty truck manufacturer in North America.
As previously reported, North Kansas City School District and several other school districts, including Blue Springs School District in Missouri, committed to purchasing the new Saf-T-Liner C2 CNG school buses as soon as Thomas Built Buses launched production.
These units, which are the first Type C CNG school buses in the industry, also represent the largest single conversion to CNG in the nation, according to Thomas Built Buses.
Moreover, North Kansas City also purchased 14 Type A Minoutour school buses to round out its fleet.
"We are excited to be the first school district in the country to incorporate Type C compressed natural gas school buses into our fleet," says Lon Waterman, transportation director of North Kansas City School District. "We strongly believe in the benefits of compressed natural gas, and we look forward to running a cleaner, greener and more cost-effective fleet. Adding the Saf-T-Liner C2 CNG is a milestone for us and the first step to converting our entire fleet to compressed natural gas."
The district expects to see a reduction of more than 5,000 metric tons of greenhouse-gas emissions with this conversion and an increase of fuel economy from 5.6 mpg with its diesel buses to 8 mpg with the new CNG engines.
"We worked with North Kansas City in 2010 when they purchased their very first compressed natural gas buses, the Saf-T-Liner HDX CNG models," says Scott Kincaid, Midwest Bus Sales general manager. "Compressed natural gas has proven to be a promising addition to their fleet."
The overall purchase of these buses, including the capital costs for the school buses, infrastructure and shop improvements, is being financed through Daimler Truck Financial. The company states that no grants or subsidies are being used for this conversion.
As reported, the new Saf-T-Liner C2 CNG school bus utilizes the Cummins Westport ISB6.7 G 6-7 liter natural gas engine and an Allison 2000 series transmission. The company states that the new bus is certified to California Air Resources Board regulations and exceeds 2013 U.S. Environmental Protection Agency emissions requirements.
Thomas Built introduced its first CNG bus nearly 20 years ago and has sold more than 2,000 CNG buses to date. Today, its green vehicle lineup also includes the Saf-T-Liner C2 Propane, Saf-T-Liner HDX CNG, Minotour Propane and Minotour CNG.