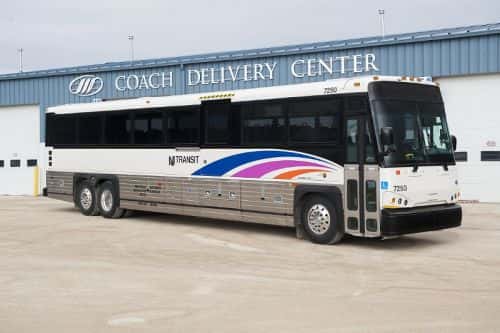 New Jersey's public transportation board of directors has authorized NJ TRANSIT to buy 772 clean diesel buses from Motor Coach Industries (MCI) to update the agency's aging fleet.
Illinois-based MCI says the $395 million order for 45-foot Commuter Coaches is its latest deal in a 33-year relationship with NJ TRANSIT. The new buses will replace older 2000-2008 models, many with more than 500,000 miles on them. Specifically, they'll replace 235 45-foot and 360 40-foot MCI coaches operated by NJ TRANSIT, and 177 45-foot MCI coaches operated by private carriers contracting with the agency.
MCI says the new coaches will offer cleaner engine technology with diesel exhaust fluid (DEF) to reduce exhaust emissions required by the latest Clean Air Act amendment.
'MCI greatly values our relationship with NJ TRANSIT,' says Patrick Scully, MCI's executive vice president of sales and marketing. 'Our newest models incorporate next-generation leaps in engine technology, efficiency, environmental innovation and passenger comfort. Our innovations will help [the agency] to deliver reliability, value and environmental benefits to the riding public in the state."
The six-year delivery schedule for the new Commuter Coaches will begin in 2016.
Notably, MCI says NJ TRANSIT was the first U.S. public transit agency to purchase new-model compressed natural gas (CNG)-powered MCI Commuter Coaches, starting with a 50-unit order as part of a 1999 pilot program and adding 27 more units the following year. The agency recently replaced those inaugural models with 177 CNG MCI Commuter Coaches delivered in 2014 and 2015.