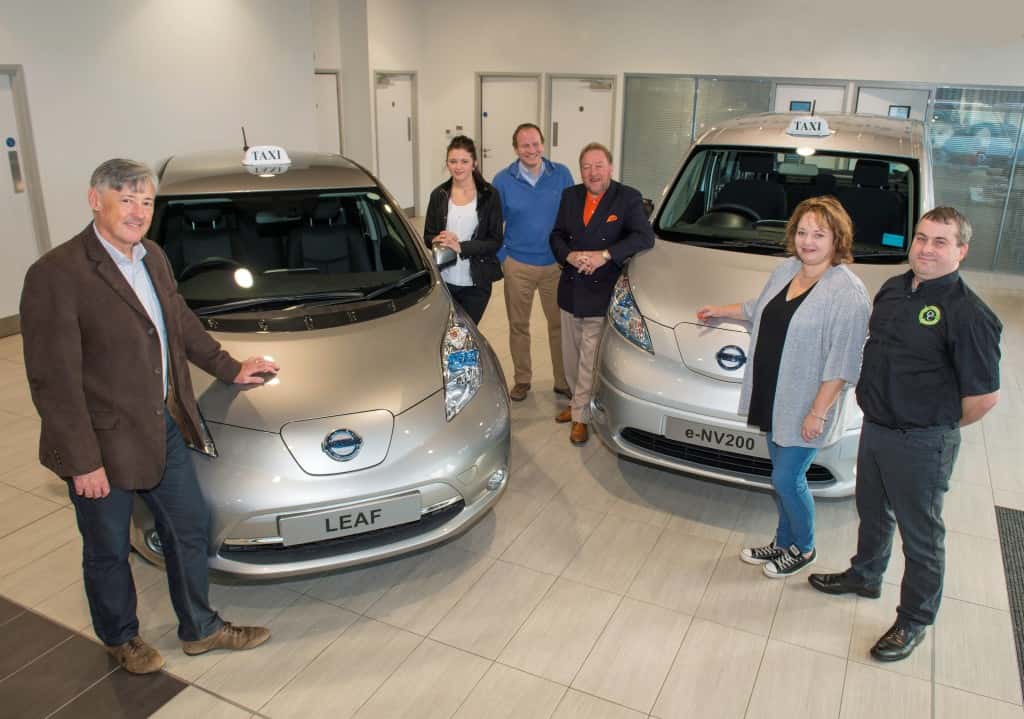 Private taxi fleets in the U.K. operating Nissan LEAF and e-NV200 Combi electric vehicles (EVs) have driven a total of more than 3 million miles on British roads, according to Nissan. Nissan says that all told, these electric taxis have saved over $400,000 in fuel and maintenance costs for their owners.
Six of the largest and longest-established Nissan taxi fleets the U.K. – Phoenix Taxis in Blyth, Northumberland; C&C Taxis in Cornwall; Premier Cabs in Blackpool; 203020 Electric in Dundee; eConnect Cars in London; and eCorporate Travel in Edinburgh – have surpassed 3 million miles between them. The six fleets operate approximately 140 Nissan LEAF and e-NV200 electric vehicles between them.
Had the same distance been covered in the diesel, it would have cost an estimated $500,000 in fuel and maintenance costs, says Nissan. The automaker also claims 899 tons of carbon would have also been emitted into the atmosphere from diesel engines.
With average running costs of just two cents per mile, however, covering 3 million miles in the LEAFs and e-NV200s only cost around $86,000 – a massive saving of more than $400,000, says Nissan. Even with oil prices near $30 a barrel, the current average cost for a gallon of diesel fuel in the U.K. is about $6.50 per gallon. The LEAF and e-NV200 electric vehicles also kept those 899 tons of carbon emissions out of the air.
"Operators across the U.K. have put them to the ultimate test – running them 24-7 and rapid charging them time and time again to keep them on the road and making money," says Karl Anders, national EV manager at Nissan. "And no matter what challenges the vehicles have faced, they have come up trumps.
"As a result, we've seen more and more taxi operators seriously looking into electric vehicles as their existing diesel and petrol vehicles come up for replacement."
Nissan says that it has dozens more electric vehicles on order and that many taxi companies and local authorities are taking steps to replace diesel and petrol equivalents with EV alternatives.