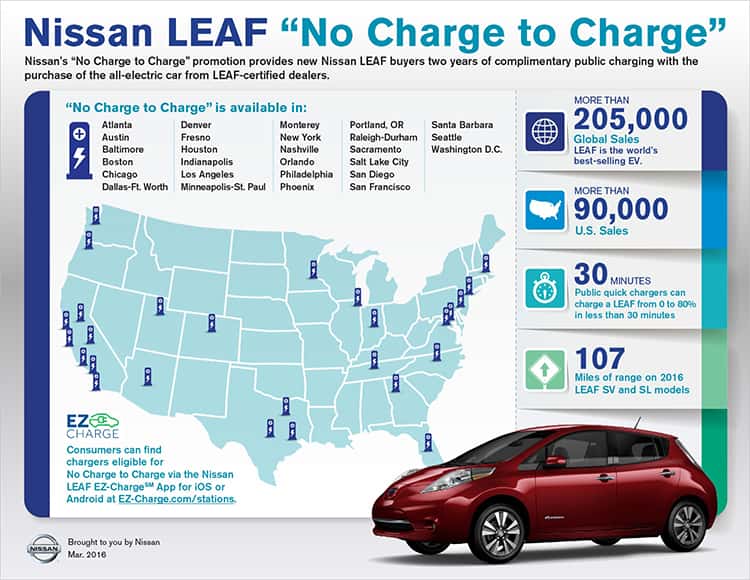 Nissan's "No Charge to Charge" promotion has officially arrived to the Sunshine State. Nissan will now provide new Nissan LEAF buyers with two years of complimentary public charging with the purchase or lease of the all-electric car from participating LEAF-certified dealers in Orlando, Fla.
Nissan now offers "No Charge to Charge" in 27 of the top markets for Nissan LEAF sales, including Atlanta; Austin, Texas; Baltimore; Boston; Chicago; Dallas-Ft. Worth; Denver; Fresno, Calif; Houston; Indianapolis; Los Angeles; Minneapolis-St. Paul; Monterey, Calif; New York; Nashville, Tenn; Orlando, Fla.; Philadelphia; Phoenix; Portland, Ore.; Raleigh-Durham, N.C.; Sacramento, Calif; Salt Lake City; San Diego; San Francisco; Santa Barbara, Calif; Seattle; and Washington, D.C.
With more than 205,000 global sales and more than 90,000 in the U.S., the Nissan LEAF is the world's best-selling electric car. The 2016 Nissan LEAF has a starting price of $26,700 after the federal tax credit, $7,500 for the SV model and $29,290 for the LEAF SL after the federal tax credit. Both the SV and SL models boast a U.S. Environmental Protection Agency (EPA) rated range of 107 miles on a single charge, while Nissan LEAF S models continue to be equipped with a 24 kWh battery with an EPA-estimated range of 84 miles. The starting price for the 2016 Nissan LEAF S grade remains $21,510 after the federal tax incentive.
All LEAF models feature an 80 kW AC synchronous motor that generates 107 horsepower and 187 lb-ft of torque, providing a highly responsive, fun-to-drive experience that consumers often expect from traditional, gasoline-powered vehicles. Unlike internal combustion-engine-equipped vehicles, the LEAF has no tailpipe, which means there is no emission of CO2 or other greenhouse gases. The public quick chargers can charge a LEAF from 0% to 80% in less than 30 minutes.
Consumers can find chargers eligible for "No Charge to Charge" via the LEAF EZ-Charge app for iOS or Android or at ez-charge.com/stations.