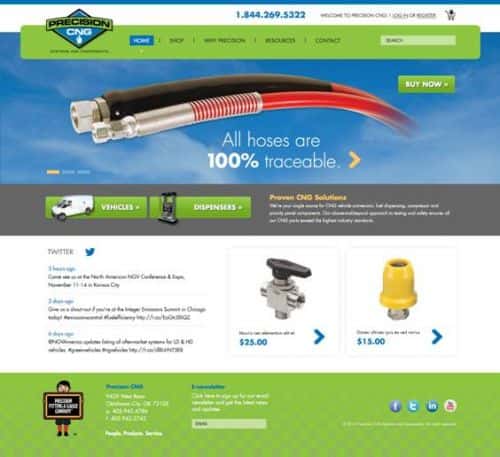 Precision Fitting & Gauge Co. has launched a new point-of-sale website for its Precision CNG business line – precisioncng.com – that gives natural gas vehicle and compressed natural gas refueling stakeholders a straightforward e-commerce solution for finding and ordering various components.
The Oklahoma-based company has experienced solid growth in the CNG sector in recent years, providing a wide range of low- and high-pressure hoses, check valves, gauges, instrumentation and fittings for NGVs, along with equipment such as filtration devices and tubing for CNG refueling infrastructure. Precision CNG carries products from companies including Parker Hannifin, OPW and Parflex.
The new website was designed to provide customers with a solution to CNG supply-chain issues, such as a lack of local parts distribution or a gap in supplier expertise on NGVs and CNG stations. Tom Spanier, president of Precision CNG, envisioned a one-stop shop for not only educating customers about the right products for a given project, but also for facilitating simple browsing and ordering.
'We're trying to take all the work out of it for the customers,' he says. 'The customer can click his way to the part he wants.'
The website offers a clean and uncluttered interface, enabling users to move through intuitive steps to find the needed equipment. Customers can make a direct search, or begin browsing by vehicle type, CNG dispenser, new CNG station construction or other criteria. There are comprehensive but straightforward descriptions of products, and a familiar point-of-sale experience allows customers to quickly execute their purchases and set up shipping options.
Ultimately, the site is both a point-of-sale system and a means through which Precision CNG can educate customers about the nuances of NGVs and refueling infrastructure and promote the highest-quality products. PF&G has been in business for nearly 40 years, and the company is drawing from that experience to help the nascent CNG sector get off on the right foot.
'I don't think the average user out there understands that mixing carbon steel and stainless steel is a bad idea,' Spanier says, citing just one example of the many details that are critical to CNG applications.
Users of the new website can gain access to this type of information directly from Precision CNG customer service and parts experts while looking for components. Or, customers can serve themselves, end to end.
'You can have as little or as much contact with us as you like,' Spanier says.