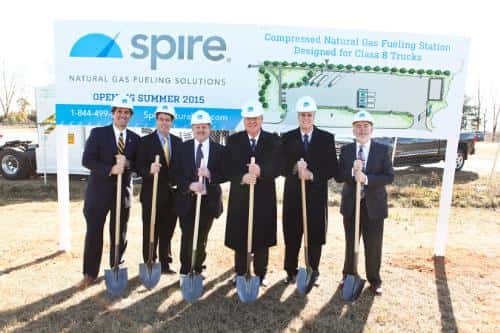 The Laclede Group and Siemens Industry Inc. have broken ground on a new Spire compressed natural gas (CNG) refueling station in Greer, S.C., at the intersection of Interstate 85 and Highway 101.
The Spire facility will complement a new QuikTrip travel center, which will offer a large convenience store, as well as expanded parking and certified scales for Class 8 trucks. It is being designed for heavy-duty commercial vehicles, with a wide turning radius and fast-fill CNG dispensers that will accommodate the simultaneous fueling of four tractors. The public-access CNG station will be open 24/7.
'Fleet owners will quickly see the financial benefits of this technology and the price difference in the fuel,' says Peter Stansky, chief operating officer of Spire. 'When you add that up over a fleet of vehicles, the math makes sense.'
Siemens Industry will lead the construction activities for the new station.