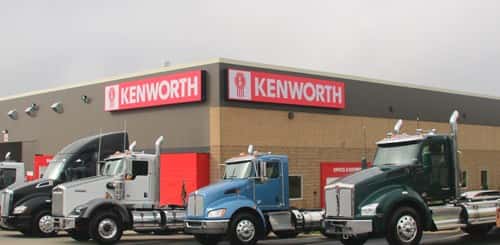 Kenworth Northeast Group has relocated its South Boston dealership to a newly renovated 40,000 square-foot facility at 1150 West Chestnut St. in Brockton, Mass.
Located 10 miles south of the company's former location in Stoughton, the facility features a service area that can accommodate up to 30 trucks and has 3,000 square feet of additional space to service natural-gas-powered trucks. Kenworth Northeast Group says the dealership features a larger inventory in its 3,500-square-foot parts warehouse and provides parts delivery throughout the region.
"Our new location allows us to offer customers in South Boston a much higher level of service and is much more accessible, as it is less than a mile from Exit 17 on the Fall River Expressway (Massachusetts Route 24)," states Dennis Dintino, dealer principal of Kenworth Northeast Group.
"The facility is also complete with new equipment and facilities that can provide additional services for customers with natural-gas-powered trucks. That's a big plus in our area, as a number of companies, municipalities and government agencies have converted their fleets from diesel to natural gas to help reduce their carbon emissions."
Kenworth Northeast Group notes it is one of 25 Kenworth dealers that invested more than $1 million in facility improvements in 2015.