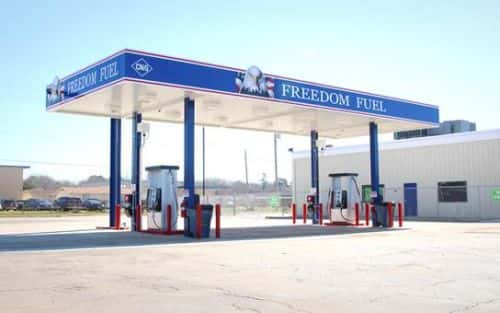 Freedom Fuel LLC used Earth Day as the occasion to unveil its new public-access compressed natural gas (CNG) refueling station in Shreveport, La., located at 501 W. 70th near Interstate 49.
Shreveport Mayor Cedric Glover and Robert 'Bud' McFarlane, former national security advisor to President Reagan and a member of the U.S. Energy Security Council, were among the dignitaries on hand last week to cut the ribbon. Freedom Fuel owner/operator Trey Smith says a key advantage of the facility is that it was designed primarily for heavy-duty trucks, with ample room for making wide turns and maneuvering big rigs. The four other CNG stations in the area are less accommodating for large natural gas vehicles, he says.
The station was built by Corban Energy Group and features two 250 hp KwangShin compressors and twin three-packs of on-site CNG storage. Two dual-hose compressors are capable of delivering 12 GGE/minute. Right now, the retail price of CNG is $1.79/GGE.
Smith notes that Freedom Fuel is an offshoot of longtime family company Ivan Smith Furniture LLC, which began converting its own fleet of trucks to CNG about three years ago. Its first NGVs were medium-duty Isuzu NPR-HDs with IMPCO CNG systems, and a half-dozen Freightliner M2 CNG daycabs followed. The company also operates two dedicated CNG Ford service vans, two bi-fuel CNG maintenance trucks and a dedicated CNG Chevy half-ton truck.
The company's new public-access station joins an existing private station at Ivan Smith Furniture's distribution center in Shreveport. That facility is also a fast-fill station, but with only one dispenser and no compressor redundancy.
Freedom Fuel's new site will initially serve primarily Ivan Smith Furniture's NGVs and a fleet of 20 Class 8 NGVs operated by Anheuser-Busch wholesaler and distributor Eagle Distributing of Shreveport Inc.