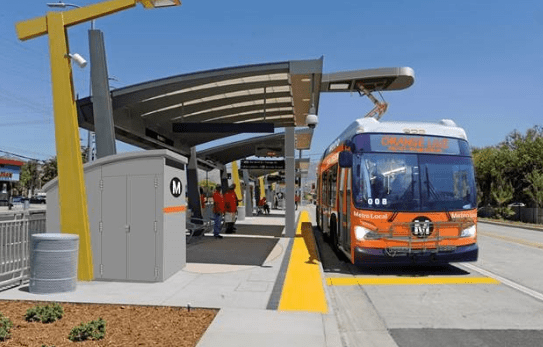 New Flyer of America Inc., a subsidiary of New Flyer Industries Inc., the largest heavy-duty transit bus and motor coach manufacturer and parts distributor in North America, says it is providing technical support toward the development of second-generation, on-route and depot charging systems for electric transit buses in North America.
New Flyer's design and manufacturing experience in electric buses dates back 40 years, including over 6,000 deliveries of diesel-electric, trolley-electric, battery-electric and fuel cell electric buses.
According to the company, several professional organizations are actively involved in overhead charging standards development, including the Society of Automotive Engineers (SAE), the Electric Power Research Institute, the American Public Transportation System, the Canadian Urban Transit Research and Innovation Consortium, CALSTART, and the Center for Transportation and the Environment.
The forthcoming standard is SAE J3105, electric vehicle (EV) power transfer system using a mechanized coupler. Similar standards for transit plug-in charging (SAE J3068) and wireless charging (SAE J2954) are also in process.
Chris Stoddart, vice president of engineering and customer service, noted, "New Flyer recognized when we introduced our first-generation overhead charging system that the industry would come together with a second-generation design that utilized completely interoperable charging infrastructure, and frankly, that's what the customers are asking for.
"The system needs to have the same level of simplicity when parking at a bus stop, incorporating the safety and reliability provisions expected of our industry. With our direct involvement, an industry coalition has now been formed and is cooperatively moving forward, building upon the experience New Flyer gained with its first-generation design and intellectual property," he explains.
The industry standard system will include wireless communication, contacting plates and equipment that automatically connect the vehicles for power transfer. European bus manufacturers joining this effort include Volvo, Irizar, Solaris, VDL, along with charging system suppliers ABB, Heliox and Siemens.
Stoddart adds, "New Flyer has no intentions of manufacturing charging equipment or the associated power infrastructure. That's no different than our approach to diesel, natural gas and hydrogen fueling systems."
New Flyer recently committed to participate in a proposed Pan-Ontario electric bus demonstration and integration trial. The outcome of these types of programs is expected to encourage the following: reducing the cost of EV charging infrastructure, enabling technology development to support grid integration, enabling communication to manage vehicle charging loads and support the harmonization of global transit infrastructure standards.