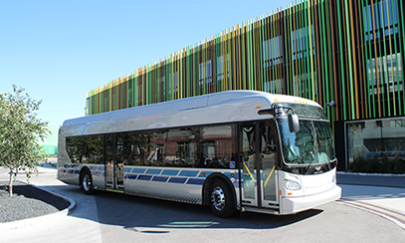 New Flyer of America Inc., a subsidiary of New Flyer Industries Inc., the largest transit bus and motor coach manufacturer and parts distributor in North America, says that its 60-foot electric heavy-duty transit bus will be tested at the Federal Transit Administration's (FTA) proving grounds in Altoona, Pa.
New Flyer's XE60 battery-electric bus, and its sister XHE60 hydrogen fuel cell bus, are both powered by Siemens electric motors, with rechargeable lithium-ion battery technology.
As reported, these bus models incorporate a two-axle drive system for added traction and enhanced safety and both produce zero tailpipe pollution and zero greenhouse-gas emissions.
According to the company, the XE60 version is an all-electric transit bus that can be offered with either extended-range batteries or with en-route fast charging capability, requiring fewer onboard batteries for continuous service operations.
New Flyer says its XHE60 model is a battery-electric, 60-foot articulated transit bus that incorporates a small hydrogen fuel cell operating as an onboard battery charger. Both the XE60 and the XHE60 are built on the reliable Xcelsior platform, with over 8,000 buses in service daily throughout North America.
Chris Stoddart, New Flyer vice president of engineering, acknowledges the significance of the launch of the test program, which also coincides with the U.S. Department of Transportation's (DOT) 50th anniversary: "The DOT and FTA provide 11 billion trips on public transportation annually. New Flyer is committed to contribute our leadership, creative ideas and capabilities to solve transportation challenges that will further increase transit ridership, promote energy independence, enhance safety and protect the environment."
Stoddart adds, "This program will validate our integration of advanced two-axle drive technology for adverse weather and road conditions. The testing also allows New Flyer to contribute in a significant role to the FTA's National Fuel Cell bus program by demonstrating how advanced hydrogen fuel cells can be utilized to charge batteries on board without using plug-in power from the utility grid, which typically requires several hours per day for complete recharging and off-peak hours to avoid excessive power rates.
"We're continuing to observe automotive companies investing heavily in this technology, which is expected to directly drive down costs, similar to what the transportation industry has experienced with batteries," he concludes.
New Flyer, which manufactures electric buses in 35-, 40- and 60-foot models, says the XE60 and its sister XHE60 will be deployed initially at the Los Angeles County Metropolitan Transportation Authority and the Alameda-Contra Costa Transit District, respectively.