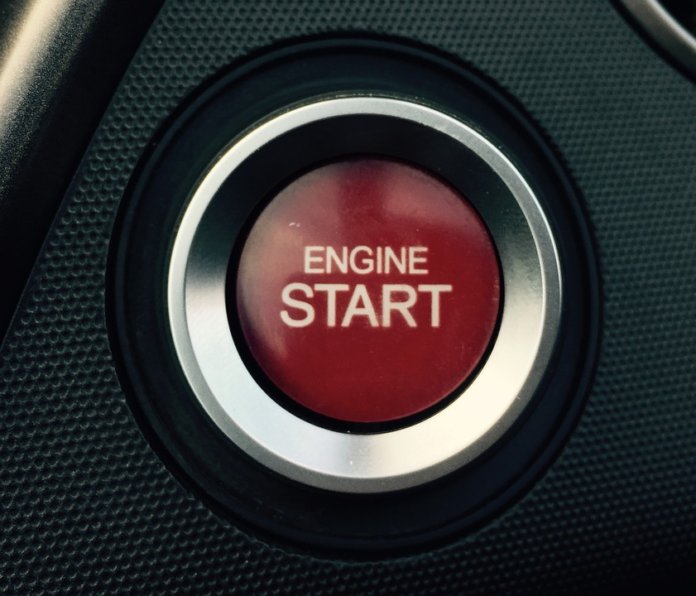 The U.S. Environmental Protection Agency (EPA) has released its Automotive Trends Report, providing information about light-duty vehicle greenhouse-gas (GHG) emissions, fuel economy, technology data and auto manufacturers' performance in meeting the agency's GHG emissions standards. According to the agency, the report, which offers data as of model year (MY) 2017, shows that automakers "continue increasing fuel economy and reducing pollution through innovation."
Due to a combination of "technology, innovation and regulatory flexibility," according to the EPA's report, the U.S. experienced record-high fuel economy and record-low GHG emissions in 2017.
In MY 2017, the average estimated real-world CO2 emission rate for new vehicles fell by 3 grams per mile (g/mi) to 357 g/mi, representing the lowest level ever measured, according to the report. Fuel economy increased slightly from MY 2016 by 0.2 mpg to 24.9 mpg, achieving a record high.
Since 2004, CO2 emissions have decreased 23%, or 104 g/mi, and fuel economy has increased 29%, or 5.6 mpg, according to the report. Over that time, CO2 emissions and fuel economy have improved in 11 out of 13 years.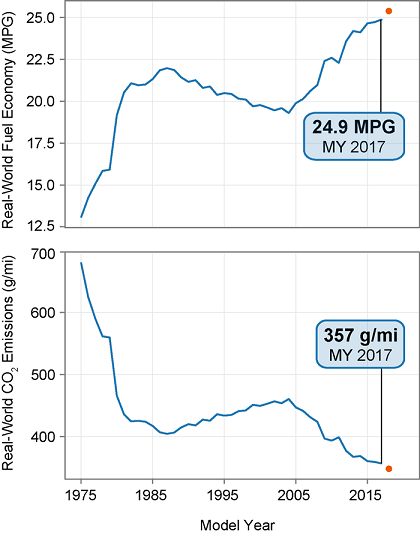 In addition, 12 of the 13 largest manufacturers selling vehicles in the U.S. market improved estimated real-world CO2 emissions and fuel economy in MY 2012-17.
Subaru had the largest decrease in CO2 emissions during this period, reducing emissions by 43 g/mi. Mercedes had the next largest reduction at 42 g/mi, followed by Nissan-Mitsubishi at 40 g/mi. Subaru also had the largest improvement in fuel economy at 3.5 mpg, followed by Honda at 3.1 mpg and Nissan-Mitsubishi at 2.9 mpg.
In MY 2017, Honda led the industry with the lowest CO2 emissions and highest fuel economy, the report says. Globally, Honda intends for two-thirds of its automobile sales to be electrified vehicles by 2030.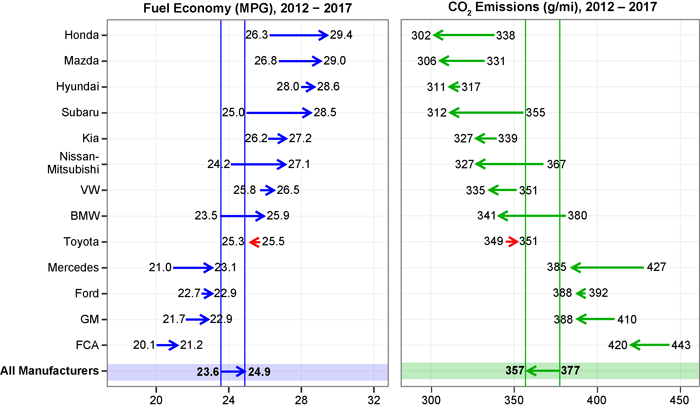 "Honda is proud to play a leading role in the move toward a more efficient, low-emissions mobility future, and it's encouraging to see the industry as a whole making significant gains, despite low fuel prices and the market trend toward trucks and SUVs," says Robert Bienenfeld, assistant vice president of energy and environmental policy for America Honda Motor Co. Inc. "There's a lot of work still to be done, but with record sales and production of Honda electrified vehicles and more planned, we are committed to continue improving our fuel economy performance."
The report also assesses compliance performance for individual automakers and for the U.S. fleet as a whole with the GHG emissions standards for light-duty vehicles. According to the EPA, this year's report shows all manufacturers are in compliance with the standards. Most large manufacturers used banked credits, along with technology improvements, to maintain compliance in MY 2017. Only three large manufacturers complied based on the technology levels of their vehicles alone.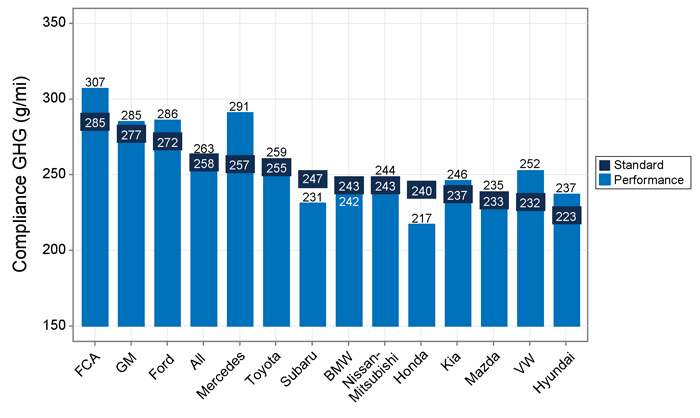 The Sierra Club points out that the report comes as the EPA, along with the U.S. Department of Transportation's (DOT) National Highway Traffic Safety Administration, prepares to finalize its rollback of Obama-era GHG and corporate average fuel economy standards for light-duty vehicles this spring.
"The auto trends report proves the clean car standards are working, but the auto industry still has a lot of work to do to reduce carbon pollution from gas-guzzling vehicles and increase fuel efficiency for American consumers," comments Andrew Linhardt, deputy advocacy director for the Sierra Club's Clean Transportation for All campaign. "Automakers like Ford and GM don't deserve kudos for progress when they've been lobbying the Trump administration to roll back common-sense standards that protect our communities and prevent further climate disruption."
On the other hand, Andrew Wheeler, administrator of the EPA, argues that the agency's new report "shows that while the auto industry continues to increase fuel economy, there are legitimate concerns about the ability to cost-effectively achieve the Obama administration's standards in the near future."
"EPA and DOT will have those concerns in mind as we move forward with our Safe Affordable Fuel Efficient Vehicles Rule, which would allow the industry to meet aggressive, yet attainable, standards; reduce the price of new vehicles; and help more Americans purchase cleaner, safer and more efficient vehicles," he says.