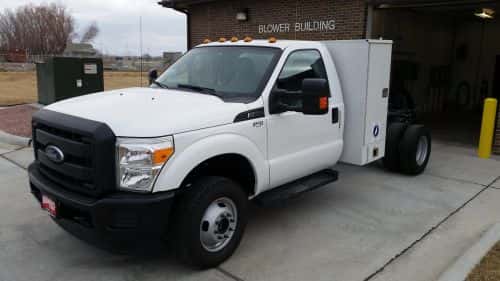 The City of Wayne, Neb., has added two compressed natural gas (CNG)-powered pickup trucks to its fleet.
The Nebraska Environmental Trust provided a $30,000 grant to Wayne to help purchase the two CNG trucks, a Ford F-150 and a Ford F-350. Meanwhile, utility Black Hills Energy is contributing $11,500 to purchase and install a CNG filling station for the two vehicles, and the University of Nebraska is monitoring the monthly performance of the trucks to see how efficient they are in a small city fleet environment.
'We're happy to partner with Nebraska Environmental Trust, Black Hills Energy and the University of Nebraska to transition part of our fleet to compressed natural gas," said Mayor Ken Chamberlain in a statement. "It's a part of our overall community sustainability as it increases our fuel efficiency and improves the air quality performance of our departments.'
The city has also installed a ChargePoint electric vehicle charging station.
Photo courtesy of the City of Wayne's Facebook page.