The North Carolina Clean Energy Technology Center (NCCETC) at North Carolina State University recently launched Fuel What Matters, a statewide public education media campaign meant to connect North Carolina residents and fleets with resources and information to make informed choices about how they use transportation.
With support from the state's Department of Transportation and the North Carolina Association of Broadcasters, the initiative started in April and will run through September. It includes a $100,000 television and radio non-commercial sustaining announcement program.
According to NCCETC, the campaign's purpose is to reduce transportation emissions in North Carolina by raising awareness and encouraging the use of cleaner fuels (biofuels, electricity, natural gas and propane), transit, bicycle and pedestrian options.
At the center of the campaign is a dedicated microsite, FuelWhatMatters.org, designed to intuitively connect the public, as well as leaders in business and the public sector, to information about alternative fuels, decision making aides and compelling stories or case studies. The site also features two of the campaign's public service announcements, which include the mayor of the City of Raleigh, the CEO of Waste Industries, and two citizens sharing how they fuel what matters to them.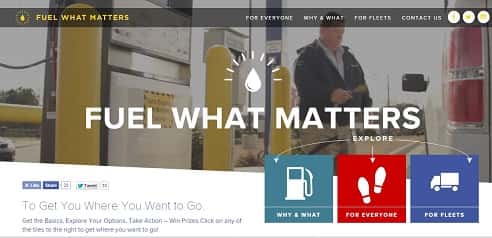 NCCETC says the public is encouraged to get involved for a chance to win prizes by posting images and messages via social media using the hashtag #FuelWhatMatters. In addition, a short video contest will provide additional opportunities to highlight how individuals and organizations are making a difference in their communities.
Â
Fuel What Matters is part of the Clean Fuel Advanced Technology project, which is supported with federal Congestion Mitigation Air Quality funds and operates in 24 counties that do not meet National Ambient Air Quality Standards. NCCETC says more than half of North Carolinians live in counties that have unhealthy air, and transportation-related emissions are a primary contributor to the state's air quality problem. Raising awareness of how transportation impacts the quality of the state's air is one of several actions being taken to address the problem, adds NCCETC.