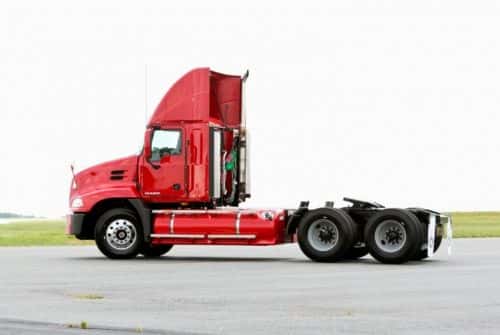 Mack Trucks now offers natural-gas-powered versions of its Mack Pinnacle models with the Eaton UltraShift PLUS transmission and Bendix Wingman Advanced collision mitigation technology.
Equipped with the Cummins Westport ISX12 G natural gas engine, Mack Pinnacle models can run on either compressed natural gas or liquefied natural gas.
'Our customers told us they wanted the option of an automated transmission, as well as the benefits of Wingman Advanced safety technology in the natural gas Pinnacle model,' explains Stephen Roy, president of Mack Trucks North America. 'In response, we've expanded our offer to ensure we satisfy these requirements.'
Mack Trucks says the Wingman Advanced system provides adaptive cruise control with braking that actively intervenes to help drivers maintain a safe following distance by reducing the throttle, engaging the engine retarder or, if necessary, applying the foundation brakes.